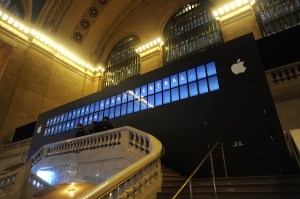 This time next Friday—actually, starting sometime around Monday probably—the fan boys will begin lining up in Grand Central Terminal to be the first into the new Apple Store when it opens Dec. 9.
Will they care whether Apple (AAPL) is paying $60 per square foot, or $80, or $180? Probably not. But State Comptroller Tom DiNapoli cares, and yesterday, his office announced they would do an audit of the M.T.A.'s real estate practices, following up on one from last year, to make sure the transit agency is not cutting anybody—Apple, Danny Meyer, their mother—a sweetheart deal.
To which the M.T.A.'s response is: "Bring it on."
That is the opening volley in a statement sent out today in response to the news of the audit. The statement concludes: "This is the best possible deal for the MTA, quadrupling the rent we receive and bringing foot traffic to Grand Central Terminal that will increase revenue from all of our retailers. We look forward to explaining the details of this competitively bid transaction to anyone who is interested."
According to M.T.A. spokesman Aaron Donovan, the kind of crowds that will soon be flooding Grand Central are precisely why the M.T.A. fought so hard to bring Apple into the station. Not only is it paying a much larger rent than the previous tenant, restaurant Métrazur, but it will occupy previously closed spaces and contribute $2.5 million in permanent capital improvements to the station.
But the real plus—unless you're a commuter trying to wend your way through them to catch a departing trains—are those crowds. For while the M.T.A. will not be taking a cut of Apple's sales, it still gets a bump from almost every other business in the station. Assuming there is a trickle down effect, which the M.T.A strongly predicts, it still means more money for the agency, a 1 percent bump in revenues for every extra $500,000 spent in the station, in fact. (That's a lot of Junior's cheesecakes.)
"It's like an anchor tenant," Mr. Donovan said. And then some. Apple is projecting it will do $100 million in sales at the store.
"Of course they gave them the store," retail broker Faith Hope Consolo said. "They stood on their head to give it to them. It's a win-win for everybody."
Ms. Consolo said to not factor in the infrastructure investments or the $5 million Apple had to pay to buy out the restaurant's lease, as the Post did when it originally reported the "sweetheart deal" would be to ignore the basic economics of commercial leasing. "If they didn't have to do that, of course the M.T.A. could have charged them more, but they wouldn't have taken the space."
As for whether or not Apple should have to pay a percentage of its sales like everybody else, Mr. Donovan said it was the company's corporate policy not to do so. This is despite the fact Apple does pay part of its sales at both its Fifth Avenue and Soho stores to the landlords there. An Apple spokesman declined to comment. "That's not information that we share," he said.
"We had an uphill battle going that because they were the only bidder," Mr. Donovan said of Apple's interest in the space. Take it or leave it, in other words.
Regardless, it underscores the station's growing popularity as a shopping destination, from the food hall to the luxury shops lining the concourses—it's not all newsstands and shoeshines anymore. Between Apple and the new Shake Shack, Grand Central has arrived. And Comptroller DiNapoli does not necessarily dispute this, either. "Just because we are looking at this does not mean it is a bad deal," a spokesman said. "We do audits all the time."
Nonetheless, there will be an audit, no matter what the M.T.A. or Apple says, which will take about two months to complete.