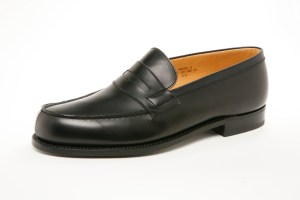 Menswear style bloggers and magazine editors may preach the latest microtrends and runway collections in their posts and pages, but when it comes to their own wardrobes, they're much pickier. When they do find something they like, they stockpile multiples of the shoes or boxer briefs with the fervor of a Glenn Beck listener hoarding gold coins, according to today's Thursday Styles.
When Gabe Schulman of thestyleblogger.com found a pair of pants that suited him at Epaulet, he quickly bought three more. For Interview editor-at-large Christopher Bollen, having three of his ideal gray sweatshirt in rotation makes dressing effortless, allowing him to focus his anxiety on "his work or whether or not [he] is dying."
Michael Williams, author of A Continuous Lean, only fantasizes about hoarding. "I have this dream about throwing away everything in my closet, or giving it to charity, and then going and buying like 20 of the same Steven Alan shirt and 5 pairs of the same Levi's Vintage Clothing 501z 1954 jeans, but not in a Steve Jobs way," he said.
Likewise, Jonathan Galassi, publisher of Farrar Straus & Giroux, wishes he'd stocked up on J. M. Weston loafers.
"You can't get them in New York anymore, but they're the best shoes I've ever had," he said. "When I see someone wearing them, I recognize them instantly and feel very jealous." (Are you writing this down, lit agents?)
Although, for men of a certain stature, it's not so much hoarding as it is custom ordering. Vanity Fair editor-in-chief Graydon Carter wanted to stock up on a certain blue roll neck knit shirt from Paul Smith, but they were out of his size everywhere.
"I have a passing acquaintance with Paul, so I wrote him asking if they could make up a few more like the one I bought and send me the bill. Whісh іn time, thеу dіd. I still hаνе thе shirts. And I still wear thеm. And damned іf I don't wish I'd bουght even more," Mr. Carter told the Times.