Update: The official response of Creative Time–the non-profit art organization which worked with Park Avenue Autumn on the exhibition involving the stolen plates– as well as that of the U.S. District Attorney's office, can be found at the bottom of the post.
In a story that raises more questions than it answers, stolen dinner plates and several salad plates originally belonging to Saddam Hussein were returned to the Republic of Iraq by the United States government after they were illegally exported out of the country and sold on Ebay.
According the U.S. State Attorney's office, the plates were found at Park Avenue Autumn, where the dining wear belonging to the Iraqi Kingdom's King Faisaii Royal Family was being used as part of a "creative art exhibition," (in conjunction with the art group Creative Time) which included the ability to eat off of them.
When told that the plates had to be returned, the restaurant that New York Magazine once described as "tak(ing) timely dining to the extreme" acquiesced and agreed to release the plates back to the Iraqi people.
How dining plates from Saddam Hussein's house ever ended up on Ebay in the first place, however, continues to remain a mystery. Even odder is the fact that the fruits of the widespread looting being on show was a widely-known and reported fact as early as November, but nothing has been done about it until now.
Update: Creative Time's response (Click to enlarge):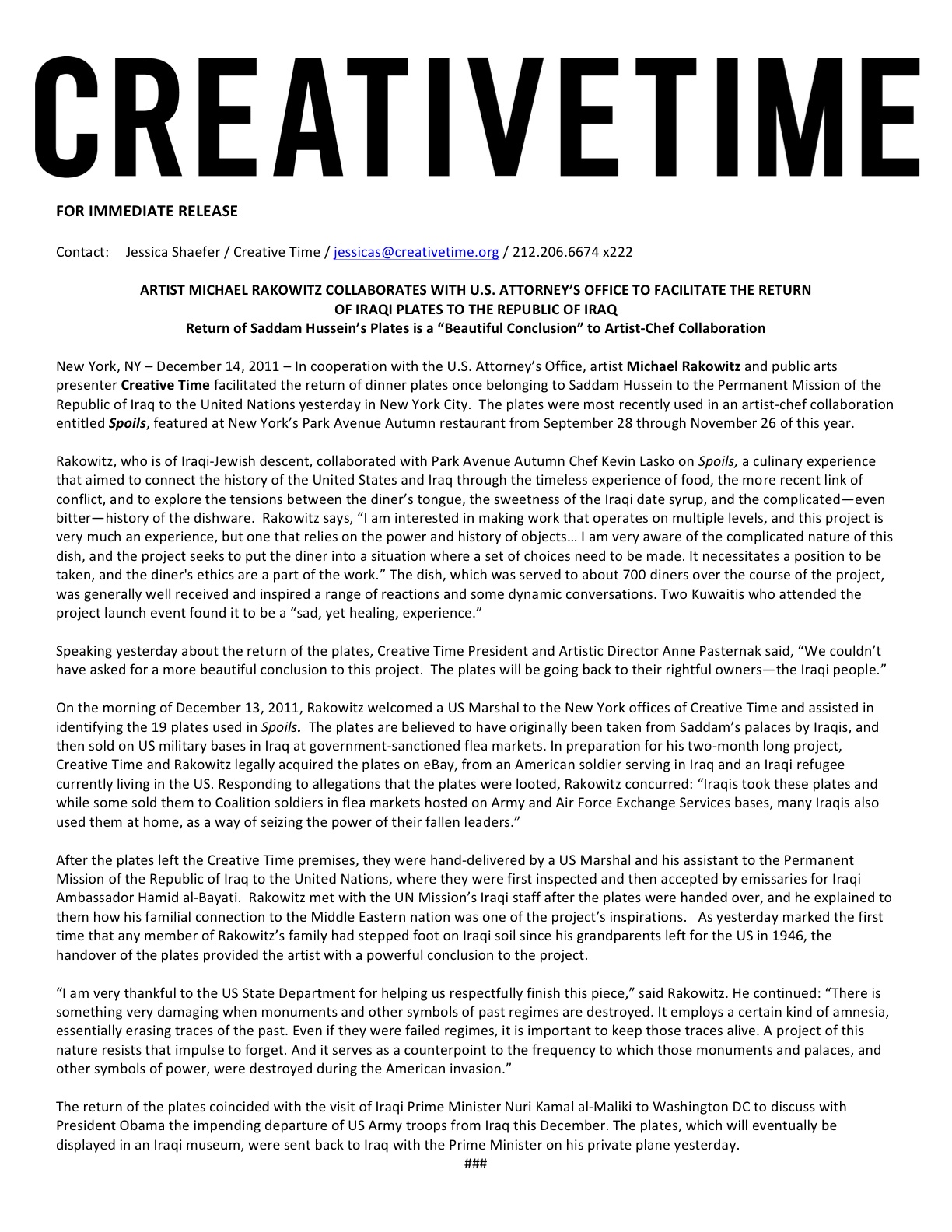 Creative Time maintains that the plates were bought legally over Ebay, although the U.S. Attorney's press release claims that they were illegally imported into the country. Both parties acknowledge that once they were contacted about the stolen nature of the plates, Creative Time agreed to "voluntarily relinquish" them back to the United States Attorney's Office.