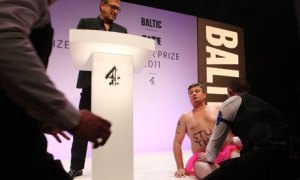 Some people were not thrilled that Martin Boyce won the Turner Prize. But Mark Roberts, a "serial streaker" from Liverpool who climbed the stage at the ceremony in a pink tutu and nothing else, at least came off as more enthusiastic than certain art critics.
Mr. Roberts has engaged in 506 streaks (including the one at the ceremony) since making his debut at a Rugby match 19 years ago. He was shirtless and had the words "STUDY THIS" written across his considerable gut. Apparently, he overheard photographer Mario Testino–who presented the award to Mr. Boyce–say "art is everywhere" as the "ballerina" was dragged from the podium.
Mr. Roberts told the Guardian, "This is somewhat of a pinnacle for me. But I am absolutely gutted that I did not fully achieve my objective. My intention was to get up on the stage and do a mini ballerina dance."
Hey, there's always next year!