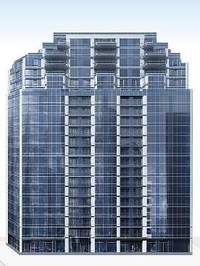 While the Museum of Mathematics isn't slated to open shop until next year, the museum's president has procured a roost not far from his future office.
Glen Whitney, who set out to create the United States' first math-based museum three years ago, has bought a condo at 340 East 23rd Street. His new home is precisely 0.7 miles (or 3696 feet) from the museum's future site on the northern border of Madison Square Park.
Even humanities majors can see that the the three-bedroom, 2.5-bath home is nicely proportioned. With two terraces and three walk-in-closets, all 1,730-square-feet of this condo are acutely desirable. The apartment also features some ideal angles on the city, with both northern and southern exposures, Douglas Elliman broker Jessica Levine told The Observer.
Not to mention the price. Originally listed last February for $2.6 million, Mr. Whitney ultimately paid just $2.1 million for the place. "I think the numbers and the math made sense for the apartment," Ms. Levine explained.
The sellers, Kirk Chapman and Elena Megaro are cipher-philes as well. Ms. Levine explained that they used the condo's office space as a math/science room for their daughter.
Also known as Gramercy by Starck, 340 East 23rd Street was one of a flood of new condo buildings to flood the Middle East Side during the condo boom, with its straight-out-of-Miami aesthetic. Perhaps Mr. Whitney likes the smooth geometry of the facade.
eknutsen@observer.com