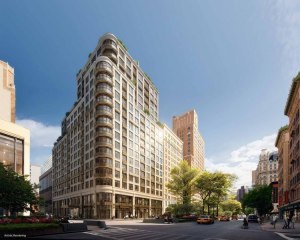 Maurice Mann knows a thing or two about luxury real estate. A developer himself, Mr. Mann was involved in the purchase of the Apthorp, and while that venture has hit one or two road bumps, Mr. Mann has found his way into another luxury building. After selling his place at The Eldorado for $3 million in September, Mr. Mann has finally settled on a new abode. Like so many of his uptown peers, he has purchased a penthouse at the Laureate.
Mr. Mann told The Observer that he looked long and hard for the perfect place, as all good developers do. He explained that he'd done "a lot of comparison shopping," although he declined to detail which other buildings he had considered before settling on the Laureate.
What in particular drew him to the tony new development? "I liked the views and the layout and I liked the fact that it was a blend of traditional and contemporary," he told The Observer over the phone this afternoon.
We asked how he would compare the Laureate to another luxury residential building on the West Side like, say maybe…. the Apthorp? "They're two different buildings," he said. Would he elaborate? "They're just two different buildings."
The Observer could not help but wonder whether it was the Laureate's substantial amenity package appealed to him. The gym? Perhaps the noise-proof music room? Or the subterranean parking garage? "I mean to me they were pretty standard, the gym and whatever else they had there," he said. Clearly the amenities don't make Mr. Mann move. Duly noted.
What does?  Again, those views, which he seems to know a thing or two about. "I had spectacular views when I was at The Eldorado, priceless views," Mr. Mann said.
If only the deal had been as clear as those views. Mr. Mann said that it had taken many months to complete the negotiations for his purchase. Originally listed for $7.7 million, Mr. Mann ended up paying $7.3 million for the three-bedroom, 3.5-bath space.
eknutsen@observer.com