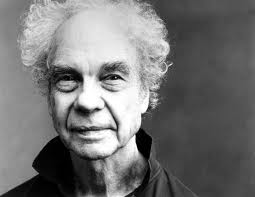 Over at Artinfo, Emma Allen, our esteemed art reality show re-capper, has a nice piece talking to the collaborators of the late choreographer Merce Cunningham. The Merce Cunningham Dance Company is wrapping up a two-year long world tour that will culminate in their final performance ever at the Park Avenue Armory on Dec. 31.
There are a number of gems that people share, but our favorite is this comment from Andrea Weber, a dancer with the company since 2004.
"The moments when he did offer individual guidance would then be so profound that I can remember most of the notes I ever received from him. One time he seemed really tickled that we had done 'Biped' in exactly 45 minutes. It was the only note we ended up getting, because he was so amazed that the curtain and the clock were in sync. But most memorable of all was after a run of 'Suite for Five' many years ago. All he said was 'Thank you.'"
Good stuff. Read the rest of it here.