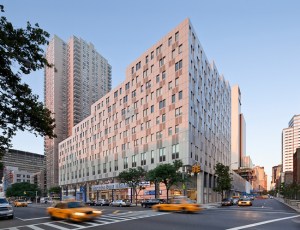 Living in Hell's Kitchen has been, well, Hell recently—at least for neighbors of the vaunted Mercedes House on 11th Avenue.
For weeks now, locals have been complaining about their inconsiderate new neighbor, according to the Post, whose loud and odorous ventilation system has been pummeling a constant stream of exhausts their way.  Stephen Malloy whose residence faces the air vents, told the tab, "It's an overwhelming sound.  It sounds like a vacuum cleaner in a wind tunnel." Eula Williams confesses, "To have a phone conversation, I usually go into the bathroom."
Mercedes-Benz's blaring show room lights are taking New York's mantra as "the city that never sleeps" a bit too literally, as residents are finding it nearly impossible to catch a good night's rest.
While Mercedes-Benz has been found to be in violation of the city's legal decibel level, and general manager Blair Creed claims they are in the process of rectifying the situation, exactly when the clatter will end remains to be seen. All The Observer can wonder is if it is this bad across the street, what is it like to live above the darn thing. And here we though Jed Walentas had enough of a headache with the subways overhead in Dumbo.
realestate@observer.com