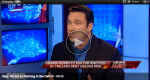 Staten Island Congressman Michael Grimm appeared on "Lou Dobbs Tonight" last night and was asked if the payroll tax debate–which seemed to involve a capitulation by House Speaker John Boehner–was a major hit for the GOP.
Mr. Grimm said that despite what polls say, it wasn't.
"The sad thing here is that the American people are confused," he said. "They don't understand what is going on.We were fighting to have a one-year tax cut so that there would be so certainty in the marketplace and we foolishly believed that the president was sincere when he said it was inexcusable not to pass this for one-year."
What Mr. Grimm leaves out is that most House Republicans were against extending the tax at all, and only did so once enough sweeteners–like forcing the president to make a decision on the Keystone Pipeline–were put in.
Still, Mr. Grimm seemed to describe a world in which Congress is more ready for change than the American people, when he in speaking about "The Doc Fix" and the debt ceiling vote he said, "I don't think the United States is ready for the change that Washington desperately needs."
Take a look: