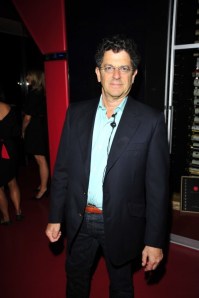 After reveling in the publication of his new book on Los Angeles mega-mansions, Michael Gross let the Post into his own personal abode.
Naturally, the Alwyn Court apartment is prewar, and has an impressive pedigree which he was more than eager to share.
It was once the most expensive in Manhattan," says Gross of the 12-story building at 58th Street and Seventh Avenue. "Tenants rented for $10,000 a year back in 1909. Back then, there were only two apartments per floor; after the Depression, they turned it into six.
It was a fixer-upper, however, as Mr. Gross shared that the two-bedroom co-op came in "estate condition" when he purchased it back in 2006—
a deal The Observer first reported
. Initially paying $1.8 million for the property, it took a six-figure renovation to get the place into liveable condition.
Well liveable for Mr. Gross and his wife's rather luxe standards. From oil paint on the walls to Parisian chandeliers and Louis XVI-style day beds, the home is an exercise in European style, for the better, worse, or merely indulgent.
Other tidbits we learned? Mr. Gross celebrates the publication of his tomes by purchasing art.
To that end, the co-op is filled with photos by Bert Stern, Richard Avedon, Slim Aarons and William Wegman; lithographs by Larry Rivers; pieces by Raoul Dufy; and, of late, Egyptian pieces — "we love classical antiquity."
This reporter is thinking it is high time to get back to work on that novel.
eknutsen@observer.com