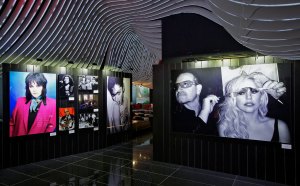 Remember that great Sean John ad Mark Ronson was in 10 years ago? The Observer loved that ad. Sure we could have asked the producer whether married life had changed him,  or "what's next," but all we really wanted to know was whether it was P. Diddy's idea or his to let the toothpick dangle so lazily in that print advertisement we once saw ages ago in VIBE. And as electronic rockers Phantogram left the stage of Symmetry Live—the W New York-Downtown's music concert series—we asked him.
Yeah. He didn't remember either. As we fell asleep in his eyes, a girl with forty-three bracelets shuttled him to the DJ booth.
We were at the W for a VIP Event celebrating the traveling photo exhibition ROCKED, featuring the work of Mick Rock, the "man who shot the 70s." He has taken every single amazing photo of every famous musician ever, and after a ruddy Brit gifted Mr. Rock with three scarves from his British scarf company, The Observer took the opportunity to ask Mr. Rock if it was true that he had the W Hotel staff rearrange his room so he could indulge his love of yoga. "Who the fuck told you that?" was all the confirmation we needed. He calmed down when he saw that both he and The Observer were wearing acid wash jean jackets and learned that his stylist and The Observer were old fencing teammates at Exeter. Egregiously we forgot to congratulate him on his truly impressive show, distraced as we were watching as our friend from Nylon hit on two unseasonably tan women at the bar.
At this point in the evening, a nice and healthy woman at the VIP reception recognized The Observer from somewhere neither of us remember and asked us if we would like to meet the Yeah Yeah Yeahs. We couldn't tell if that was Karen O. or someone who just looked like Karen O. (it turned out it was), so we focused our terrible reporting on Nick Zinner. We'd be remiss not to mention that the lead guitarist and YYY sound-architect is the sweetest human being ever. The last time we saw him was walking out of a sushi restaurant in Williamsburg, and upon mentioning this Wednesday night, his flush of embarrassment at having been to Williamsburg at all was evident to all the semi-attractive squinting toads standing around. While Mr. Zinnner remembered the night in question, he nonetheless sternly remarked, "I don't go to Williamsburg." Mr. Zinner is all types of cool and so fucking adorable and a strict vegetarian who really, really, really doesn't like Williamsburg or talking about food and seems to have lost his smile in a Town Car, but never called the driver to go back and claim it.
The host of the evening was Michaelangelo L'Acqua, a terribly charming three-piece gentleman who is the W Hotels Global Music Director. "People like Janaelle Monae get it. Das Racist doesn't," he informed The Observer. (Having worked with scores of musicians for various projects, Mr. L'Acqua is well-learned on the subject of musicians who behave like jerks at the slightest curtain flap of fame.) I asked if he had heard that a previous W Hotels ROCKED performer, Theophilus London, almost drowned at Miami Art Basel last week? "No. But he'll be here later tonight if you want to ask him about it." (Which he was, but The Observer declined to pursue this line of questioning for fear of the musician's height and the assumed sadness behind his dark and stylish sunglasses).
As Mr. L'Acqua rose and stood handsomely to leave we went to harass non-jerk Albert Hammond Jr. and his glowering lighthouse of a girlfriend at the DJ booth. We wondered why Mr. Hammond Jr. has never played at New York's Petty Fest (an annual concert featuring dozens of famous actors and local musicians covering Tom Petty songs for one glorious night in October) despite being close friends and sometimes band mates with almost everyone who plays it. "I know, I know," he sighed before changing the song to something knowing yet recognizable on his iTunes playlist.
The Observer turned our attention to the actor Stephen Baldwin, seen talking without the aid of his hands to a friend of ours. Nonetheless we approached with caution because we've never seen a wolverine in the wild and, well, The Observer has heard its share of stories. Yet despite Mr. Baldwin's unforgivable sartorial misstep of wearing a black undershirt under a blue button down he proved to be a sporting partygoer, telling tales of shitty concerts he's seen with aplomb. We showed him our notebook to prove our credentials, only for him to find it littered with such hard hitting questions for the other VIPs in attendance as "Challenge Chace Crawford to arm wrestle" and "Ask Penn Badgley if he remembered when the CW was called the WB and also if he too wants to arm wrestle?"
The reception portion of the evening ended with a spill and a photo alongside Mick Rock's fetching daughter, Nathalie Rock after which we proceeded to a tented side lot to watch the Phantogram performance. The attractive musicians only cemented our fandom, and we're happy to report that no one drowned in anything other than a sea of free scotch and poorly designed business cards. Then again, we hear Mick Rock almost drowned in a pool of scarves.