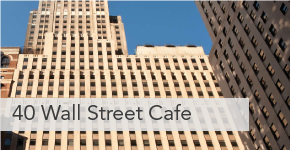 Poor Marc Epstein: Without the Occupiers at Zuccotti Park to blame for the downsizing of his business, there was nothing for him to do but shutter up shop of his Wall Street Kosher palace. Because as it turns out, it didn't really matter how many barricades were torn down, people just weren't eating at at the Milk Cafe.
As Mr. Epstein told Gothamist:
" It was quite an experience, and I would like to thank all our employees, and thank all our patrons for coming to us."
Especially patrons like Howard Wolfson and New York Assembly Speak Shelley Silver, who went out of their way to remove the barricades that Mr. Epstein claimed forced him to cut almost 20% percent of his workforce in early November.
Luckily for those huge Milk-ies fans out there, you still have until tomorrow to go get your Kosher food-on if you happen to be in the Wall Street area. If not…well, you can always visit him back in Boston.