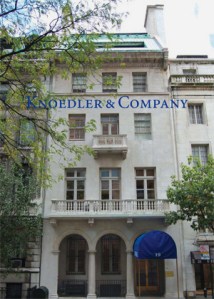 On Wednesday last week, Knoedler & Co., one of the oldest and most prestigious art galleries in the country, abruptly announced that it would no longer be open for business, "effective immediately."
On Friday, The New York Times wrote an article about a federal investigation of "expert forgeries" of artists Jackson Pollock and Robert Motherwell, many of which came to the market through an art dealer from Long Island, Glafira Rosales. In several cases, these works were eventually sold through Knoedler by its former president, Ann Freedman. She resigned her post in 2009 amid accusations by the Dedalus Foundation–started by Motherwell to protect his work–that some of the works sold by the gallery were forgeries.
Knoedler is not implicated in the federal investigation, but on Friday a London collector sued the gallery and Ms. Freedman for selling him an allegedly forged Pollock for $17 million.
According to court documents–reported out today by Courthouse News Service–the gallery announced its closing "just one day after plaintiffs provided defendants with a copy of the written report declaring the work to be a forgery…"
The collector, Pierre Lagrange, claims he was lied to by the gallery. He says the gallery told him that they had shown the painting to "12 leading Pollock scholars" who all had "positive opinions" about it. The painting was not included in Pollock's catalogue raisonné. When Mr. Lagrange tried to sell the painting to Christie's, he received a rejection letter stating it was "generally agreed in our industry that Pollock paintings not listed in the catalogue raisonné, are rarely accepted in the marketplace."
According to Bloomberg, in an article published last Friday, Mr. Lagrange is seeking "at least $15.3 million–his purchase price less the $1.7 million commission he paid to two intermediaries — plus punitive damages."
Ms. Freedman continued to defend the work. According to The Times article about the investigation of forged paintings sold by Ms. Rosales, she said "there was no better demonstration of her faith in the work than the purchase for her personal collection of three paintings from Ms. Rosales, a Motherwell, a Pollock and a Rothko, which she still owns."
The Times reported from court documents that in 2009 a forensic analysis of two Motherwell paintings sold by Ms. Rosales–one from personal collection of Ms. Freedman, the other was on display at Knoedler–said that they "contained pigments that were not 'invented until at least 10 years after the date on the paintings.'"
The gallery's website has since been taken down and replaced with the initial note regarding the end to its 165-year history:
"It is with profound regret that the owners of Knoedler Gallery announce its closing, effective November 30, 2011. This was a business decision made after careful consideration over the course of an extended period of time. Gallery staff are assisting with an orderly winding down of Knoedler Gallery."
A phone call to the gallery leads one to a recorded phone message that says, "The process of winding down is ongoing, and if you have pending business with the gallery please leave a message with your name and phone number and someone will return your call as soon as possible."