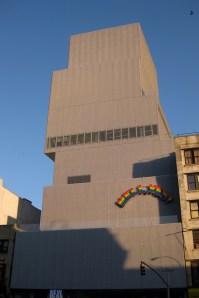 Holiday miracles abound!
It's not just the Metropolitan Museum of Art that is toasting the end of the year with special viewing hours. The New Museum is also mixing up its schedule, cracking open its doors today and tomorrow, from 11 a.m. to 6 p.m. (It is normally closed on Mondays and Tuesdays.)
Since Carsten Höller's exhibition has been attracting long lines, this may be the perfect chance to sneak in a ride down the artist's floor-spanning slide. Can you imagine a better feeling that bragging to your friends that relaxed in the Psycho Tank on "Mega Monday." We cannot.