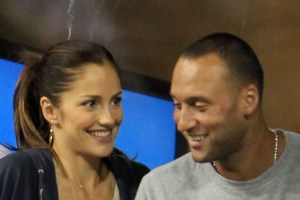 Several weeks ago, we reported on the oft-heard rumor that if you are lucky enough to catch the Yankee shortstop  Derek Jeter's penis and put it inside you, you would go home the next morning with a gifting suite worth of goodies. (Including but not limited to a signed baseball! How very Freudian.) The best part of all? There wasn't a cap on how many times you could pull the one-night-stand move on Mr. Jeter, since he apparently has the memory of a goldfish when it comes to the women he's bedded.
Sorry ladies, but your free ride is officially over.
That's right: Derek Jeter may be back with ex-girlfriend Minka Kelly, whom the baseball player split from earlier this summer. While the  word has been that Mr. Jeter has been running around the city like a bad little boy, the New York Post reported today that Mr. Jeter and Ms. Kelly have rekindled their romance in the city of love…having their own Midnight in Paris as they visited the Musée d'Orsay and took in the culture.
According to spies, the couple made no attempt to hide their fame…with Mr. Jeter even wearing a Yankees cap around town. (Un?)fortunately, they were barely recognized by the Francofiles. That's okay…here in America, we're still kind of unsure why Minka Kelly is supposed to be famous.