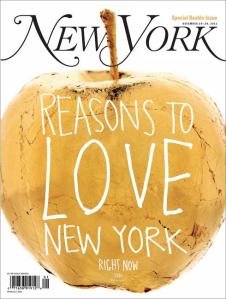 THE REASON YOU DIDN'T SEE a new issue of New York magazine on newsstands this week? The double-issue that is their much-beloved yearly Reasons to Love New York feature will sit on newsstands until next Monday, when their final issue of the year emerges.
Yet, we couldn't help noticing that this year's iteration of the feature—in its seventh year, which started in 2005—felt a little light. After all, there were only (by their count) 42 Reasons to Love New York in 2011. Are we wrong?
By our count, New York's yearly Reasons to Love New York count:


2005: 124
2006: 38
2007: 93
2008: 59
2009: 43
2010: 59
2011: 42
Or in cheeky infographic form:
Maybe New York actually is running out of Reasons to Love This City. Or maybe this city is running out of reasons for New York to love it.
Or maybe they've decided that sometimes less is more, especially when more turns out to be not-so-prescient. Even in 2006, during the all-time low for Reasons to Love New York:

Or in 2009:

And then there's always the risk of repeating oneself, or doing anything to avoid not repeating oneself:
2006: "Because We Read."
2007: "Because Even Our Kids Are Book-Obsessed."
2008: "Because These Sentences Were Published About New York This Year."
2009: "Because We Fight Over Poetry."
2010: "Because We're Home to Not Only the Publishing Industry But Also to a Woman Who Spends Her Days Smelling Books."
2011: "Because Our Marlboro Man Is a Novelist."
Truth is, (A) we're fans of the feature, and this year's was (as far as this opinion is concerned) among the best—this photo really needs to be seen in print for the full, truly wonderful effect—and (B)  as much fun as putting together a yearly feature package is—or any kind of feature package with any kind of consistency—it can be a giant pain (just ask those hacks who put together those absurd power lists).
That said, maybe less is, in fact, more.
In any event, it's the kind of feature where it doesn't matter. It's generally a success year after year, hold the possibility that only seventeen reasons show up next year. Unless, of course, they're all variations on "Because you can walk down the street and fart and nobody will notice."
After all, sometimes, people just like to be reminded of how great their lives are. In numbered form, of course.
fkamer@observer.com | @weareyourfek