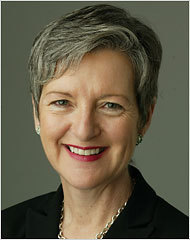 IN MID-OCTOBER, a memo was sent out to all New York Times editorial staffers, from recently-installed Times executive editor Jill Abramson, managing editor Dean Baquet, and managing editor for news operations John M. Geddes: plans to reducing the newsroom with a series of voluntary buyout packages were underway, with Ms. Abramson's projected count at "fewer than 20."
Over the last week, news of eight buyouts—including veteran columnists Clyde Haberman and George Vecsey, as well as T Magazine's executive editor Andy Port—and tributes to the respectively retired Timespeople were circulated internally, a cache of which we posted earlier. There are two three that we missed, and one that we didn't (but could've). UPDATED.
Investigative business reporter and 20-year Times vet Diana B. Henriques took a buyout, which was initially reported by Talking Biz News. Ms. Henriques—whose deep reporting on Bernie Madoff earned her both a bestselling book (The Wizard of Lies) and consulting gig with HBO on the adaptation of his story—noted in an email to friends and colleagues:
"You may hear that I have accepted the latest NYT buyout. I have, but I am not retiring or leaving the Times. I was immediately offered and accepted a contract to work as a contributing writer – same email, same phone, same address, an NYT cubicle, etc."
Ms. Henriques is not the only one with a contributing gig moving forward with the paper; Clyde Haberman (whose taking-up of the buyout notice we posted earlier) will continue to write his Metro column for the paper's CityRoom blog, The Day, as a freelance contributor, thrice-weekly (as opposed to his previous schedule of appearing four-times-a-week). Talking Biz also reported that Ms. Henriques has taken an appointment at Princeton as a writer-in-residence.
Meanwhile, multiple tipsters have informed us that Times business writer Eric Dash—who has been reporting on banking for the Times since 2004—has taken a buyout, news of which was broken in a daily email from Politico's Ben White.
Mr. Dash noted in an email to colleagues (emphasis ours):
'Friends, I wanted to let you know that after eight years at The New York Times, I am leaving the newspaper. I've had an amazing run covering the banks and the financial crisis, but I am now looking forward to a new challenge. It's been an extraordinary privilege to work for The Times, and to have been on such an important beat at such an important moment.

"'I've also been fortunate to have such a rich experience so early in my professional life. That's why I'm convinced that now is the right time for me to take a risk and try something entirely different. I am excited about what lies ahead for me as I move into the next phase of my career, and I plan to take some time to explore. But I do hope that we will stay in touch.'"
UPDATE, 6:26 PM: We just got word that Bob Harris, the Deputy Editor of The New York Times Book Review and a 29-year veteran of the paper, has also taken a buyout. If we were more keen Observers, we would've seen NYT Book Review editor Jen McDonald break the news herself on Twitter this past Friday night: "Bob Harris, the Book Review's stalwart deputy editor — a 29-year veteran of the NYT — has left the building. Cheers, Bob." Ms. McDonald followed up with a few of kind Tweets about Mr. Harris' contributions over the years.
The list of Timespeople we know have now taken the paper up on the latest round of buyouts looks like this:
George Vecsey, Sports columnist, 30-year veteran of the Times.
Clyde Haberman, Metro columnist, 34-year veteran of the Times.
Andrea Stevens, Arts reporter, a 27-year veteran of the Times.
Andy Port, executive editor of T Magazine, a 20-year veteran of the Times.
Sam Dillon, National Education correspondent, a 20-year veteran of the Times.
Nicholas Wade, Science reporter/editor, a 29-year veteran of the Times.
Barclay Walsh, News Research supervisor for the Washington Bureau, a 24-year veteran of the Times.
Donald Parsons, News Design editor, a 29-year veteran of the Times.
Diana B. Henriques, Business reporter, a 20-year veteran of the Times.
Eric Dash, Business reporter, an eight-year employee of the Times.
Bob Harris, Deputy Editor for The New York Times Book Review, a 29-year veteran of the Times.
Finally, we also received a tip that Don Van Natta Jr.—a sixteen-year vet of the paper, and one of the Times' three investigative reporters who opened up on News Corp's phone-hacking scandal with a massive New York Times Magazine expose last September—had also taken a buyout before departing to ESPN.
A request for quote on the matter from a New York Times spokesperson was not returned, but we've since heard otherwise: that Mr. Van Natta informed his editors that he'd be leaving the paper for an investigative reporting post with ESPN. He was contacted by editorial brass at the Times, who were unsuccessful in dissuading him.
He then applied for the buyout package, and was roundly rejected a few days later. Could he have applied for the buyout package, been taken up on it, and then accepted the offer with ESPN?
Theoretically, yes. But he didn't.
Alas, it would appear Mr. Van Natta took the route involving lesser moneys, or at the very least, the kind that throws recently-departed New York Times CEO Janet Robinson's $4.5M post-resignation 'consulting' fee in very, very sharp relief. If anything, we're curious:
How much will Clyde Haberman be paid to file three times a week?
How much will Diana Henriques recieve for continuing to contribute her hard-nosed investigative reporting to the Times without a full-time contract?
And exactly how much elbow grease will Ms. Robinson be putting into the paper as a part-time employee, in comparison?
[Know any more about the buyouts? We'd love to hear it.]
Correction: A commenter noted that Talking Biz News—and not the Reynolds Center, as initially noted—was first to the news about Ms. Henriques' departure. They appear to be correct, and the post has been adjusted to reflect this.
fkamer@observer.com | @weareyourfek