Is she outside Duarte Square, looking in? Or vice versa?
jhanasobserver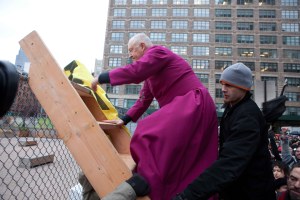 This weekend 49 protesters were arrested in an effort to occupy Duarte Square Park: a vacant lot owned by Trinity Church (aka Hudson Square Properties). Although the turnout wasn't quite as big as last month's OWS anniversary (that mayhem in the streets known as the "Day of Action"), the attempt to claim the half-block in Tribeca by scaling and cutting the fence surrounding the area was nonetheless inspiring in its imagery. But was Occupation 2.0 a success?
While we covered the event from the street, photographer Osvaldo Ribeiro Filho provided photos from the ground at Sixth Avenue and Canal, where he noted that the "priest who was the first inside the park was also arrested." That would be Episcopal Bishop George Packard, whose arrests in religious garb makes him the Captain Ray Lewis of the cloth. (Though not all bishops agreed with the overtaking of an Episcopalian church's property.)
Also on hand marching on Saturday was City Councilman Ydanis Rodriguez, who was injured by police while trying to observe Zuccotti Park's evacuation on November 14th.
This month, OWS has had to deal with the decentralization in many of its branches, and have been focusing on the "reoccupying" foreclosed homes. This is a smart strategy. However, calling the occupying of Duarte Square Park a "reoccupation" is not: no one has ever had claim over that land other than the Church. So far, the reason for picking that empty lot to enact an earlier hunger strike as well as this weekend's movement was summed up by Queens attorney, Randi Freedman, speaking to BusinessWeek: "The church should give OWS the space. It's not like they're using it for anything now."
(All photos courtesy of Osvaldo Ribeiro Filho, author of Peace Love and Pepper Spray. You can find his photojournalism on his website.)