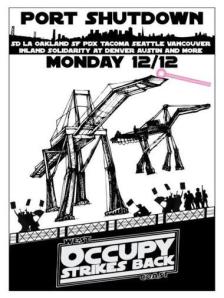 Today is a great day to march against those capitalist fat-cats if you happen to live on the West Coast, on a day that OWS has called "Occupy Strikes Sachs." (Get it??) Protesters will disrupt ports from Anchorage to San Diego in an effort to block Goldman Sach's daily shipment order of $705 million in cargo.
But don't worry…if you live in New York, you can still help out by marching to Sach's headquarters.

From the OWS flyer:
In New York, the U.S. financial capital, OWS will march from Zuccotti Park toGoldman Sachs' headquarters at 200 West Street. Once there, our march will culminate in an exciting theatrical finale incorporating Rolling Stone writer Matt Taibbi' s characterization of Goldman Sachs as "a great vampire squid wrapped around the face of humanity, relentlessly jamming its blood funnel into anything that smells like money."
Oh Jesus, Matt Taibbi, what kind of performance street art have you wrought? (P.S., if anyone has some video or photos of what this ends up looking like, we're severely interested.)
This march to shutdown the hubs is not being covered extensively quite yet, but Bloomberg media is all over it with a great headline (probably since we don't have a major port in New York**):


Moneybags, indeed.
** We kid, since Bloomberg Media–like most media except Fox News–does not operate its editorial based on restrictive guidelines from its publisher/owner.