Security is on the lookout for any bulky bags that might contain a hidden sleeping bag or tent. But they're not going to be looking for a
not tent
, which is exactly why the
JAKPAK
is perfect gift for that protester in your life who wants to be fashionable and subversive.
Retails for: $249
Point of order: "Dummies" has been deemed an offensive term, and a motion has passed to change title to "Horizontal Democracy for the Uninitiated."
Retails at: $14.99 (plus tax)
Neutralizes burns associated with having noxious chemicals directly sprayed in face.
Directions: Turn nozzle inward,
directly spray into face
.
(Note: Please do not get anti-pepper spray confused with the actual pepper spray, which you will also be needing to buy for nights you sleep outside with a bunch of other homeless strangers.)
Retails at: $9.50
Put your Occupier's mind (and bowels) at ease with
this personal Porta-Potty
. Just throw a blanket over your lap and pretend you're sitting in a chair laughing at all those poor suckers waiting in line at McDonald's.
Retails at: $99.50 (Includes 3 toilet bags from CleanWaste.com)
When the
1% become the .01%
, corrective measures must be taken. Corrective measures that involve drum circles. Speaking of which...
Retails at: Priceless
Connecticut Lottery, HO
So your friend/coworker/loved one is always talking about OWS' drum circles, but doesn't have a lick of rhythm? He'll still be able to disrupt the peace with this Aborigine "brass aerophone." They'll be keeping the community up all night with one of the oldest and most annoying instrument known to man!
Retails for: Prices vary from $30 to a barter for free Phish tickets.
(Getty Images)
Relax, Mom and Dad—your kids didn't listen to a fake financial adviser.
It's either that, or sign a holiday check for those $40k in student loans that your Secret Santa recipient took out under the misapprehension that the workforce was in desperate need of a Philosophy/Theater double-major.
Retails at: The price of new Mercedes.
(Getty Images)
Getty Images
Do you know how much time an average OWS participant wastes every day, scrounging for an old pizza box to write a new message of protest on? Why not give the gift the keeps on giving: a personal dry erase board that lets you change the message of your discontent from Fracking to Wall Street bailouts with just one wipe.
Retails at: $20 at
Sears
not including the extra shipping fee to have FedEx deliver it to "Liberty Plaza."
(Fibonacci Blue)
You know, it's that thing where you put, like a tiny person on your shoulder and you whisper something in its ear that it then screams loud enough so the people in the back can understand you?
Retails at: ¿ ¿ ¿
Sure, they've put these items on their wish list since they were 16, but now they actually need it. For the livestream. Also, you're going to want to make sure you buy a 3-year warranty, in case it rains.
Retails at: Around $5-10k, if you include the Final Cut editing suite, the iPhone, aircard, and the external hard drive. But can you put a price on grainy footage of what looks like a police officer arresting someone? No, no you can't.
Saw it being auctioned off while protesting outside Sotheby's, thought it would spruce up the tent.
Retails at: $7,000-9,000 (estimate)
(Sotheby's Catalog)
Nobody knows who the mayor is in Gotham City. Want to know why? Because their commissioner is a bad ass proletariat who doesn't answer to anyone. Except the people. And the Batman.
Retails at: To give this gift to someone you love, you'd have to be rich enough to displace the current NYPD chief without raising too many eyebrows. Maybe if you were billionaire playboy Bruce Wayne or something, but since you're most likely not,
just sign a petition for Commissioner Gordon
and get your Occupier to forward it around until there are enough signatures. Sometimes you have to work for your gift!
(Getty Images/The Dark Knight)
Warren Buffett
auctions himself off for lunch every year
, just so a lucky individual can pay $2 million to charity for the honor of sitting in some diner and eating burgers with the billionaire. (That's how Mr. Buffett keeps it real.)
Your Occupier would love nothing more than some personal one on one time with the enemy, so keep those pockets lined in case Mayor Bloomberg decides to rip a page from his friend Mr. Buffett this year.
Retails at: Conservative guesstimate? Around $500,000. (He's no Warren Buffett.)
Something with health insurance. Preferably something with some 401k options, dental, and a lot of vacation time. That way, when out protesting, your Occupier can answer jeers with "I already HAVE a job!" Is that too much to ask for on Christmas??
Retails for: Priceless
(lululemon athletica)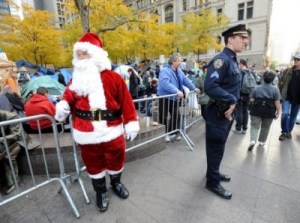 It's that special time of the year again, when Fifth Avenue is set a'twinkling with displays of opulent spending and every magazine advertisement beckons you to think not of yourself for once when engaging in egregious spending.
But gift giving can be hard! Especially, as they say, for the person in your life who has everything…though they never tell you how difficult it can be to shop for the person who has nothing.
What kind of stocking stuffer are you supposed to get your loved ones who are currently occupying Wall Street? Do they just want a card with some money in it, or is that offensive? Should you buy them something utilitarian to wear in the cold, or just send them a plane ticket home? And where are you supposed to send your gifts to, anyway? Care of Liberty Plaza, the local NYPD precinct, or the North Pole? (We hear the elves are picketing outside Santa's factory because of the union lockout, so postal service might be iffy.)
We've spent months trying to decipher what exactly the Occupiers want. And while you may not be able to re-haul our entire  system of government or end Fracking once and for all–you'd have to find out what it is first–we've come up with a list of 15 treats that are sure to please even the most picky protester this holiday season.