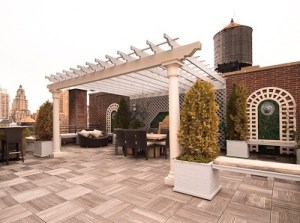 It's been a long time coming for apartment 15 at 45 West 67th Street. Owned by a group of investors and at one point rented to Prince Faisal al Saud, the 2,939-square-foot home has sat on the market for well over four years, looking for a buyer. At long last, the place has sold for quite a pretty penny. 
According to city records, an LLC purchased the five-bedroom, three-bath condo for $4.1 million in November 2005. Among the group of owners are Kathleen Comerford and her husband, Raymond Cumbero, a former Bank of America portfolio manager. The couple seem to have real estate troubles, to say the least. In 2009 they priced their Trump Tower duplex at $15 million, but in the end they only got $11.5 million for the place. Well, they dream big at least.
Similarly, when they put the 45 West 67th place on the market back in 2007, it came with a decidedly pre-crash price tag: $14 million. The listing went through a series of New York's top brokers, from Robby Browne to Nikki Field, but the darn place just wouldn't sell. Finally adopted by Ryan Serhant and Silvette Julian of Nestseekers, the place was pegged at $8.7 million and finally reduced to $8.49 million. In a holiday miracle rivaling the virgin birth, the place has finally sold for $8.3 million—still twice what the buyers paid.
Asked for comment about why the long suffering property took so long to sell, Mr. Serhant simply said, "You know sometimes it all comes down to who you should have selling it."
A source, who wished to remain anonymous, told The Observer that the property was purchased by a wealthy British oil magnate as an investment. Perhaps he found out about the place from Prince Saud.
According to a construction company's website, the place, located on the 15th and ultimate floor of the building, was recently gut renovated and three smaller units were fully integrated into one continuous floor plan.
According to Mr. Serhant and Ms. Julian's listing, the new owners can "can fall asleep to the sounds of Lincoln Center and wake up to the treetops of Central Park." The home comes complete with a champagne chilling sink (cheers), a 304-square master suite and a built-in espresso machine. Did we mention the beer tap on the 1,120-square-foot terrace? Someone has a drinking problem.
eknutsen@observer.com