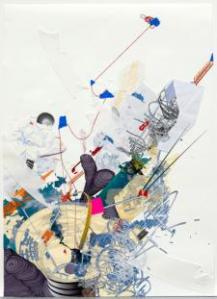 Sarah Sze's new exhibition at Asia Society has many attractions, among them a room devoted to the physical representation of two-dimensional image creation, works that force the distillation of perception and no fewer than the 12 formative moments in the life of Sotheby's auctioneer Tobias Meyer.
Just before the opening of her show there, "Infinite Line," on Monday, Ms. Sze hosted a special tour of the exhibition for patrons of the museum, a role that might usually be filled by a curator, though fitting for this show since her newest pieces, all titled Random Walk, with variations, were essentially created through curation. Found objects come together to distill the process of image creation, offering works that are still incredibly dense.
"You're constantly seeing a process," she said at one point standing near a piece she described as a "model of a waterfall" that featured several waterfall posters, and a reverse-vanishing-point structure made of thin wood sticks that expanded to the wall with plastic cups of blue liquid below it. "My six-year-old is learning math and she's hung up on this concept of 'show your work.' She said to me, 'How do you show your work?' and she hit the nail on the head."
You wouldn't call any of the pieces unique to the space, with the exception of the one near the window that seems to sketch a zen garden in thread and then continues onto the terrace with actual rocks. Ms. Sze compared slanted cut-out words in one of the works to the opening text in Star Wars, but the description fits for most of the pieces. The perspective is not forced, more suggested.
Mr. Meyer's memories are part of a portrait series in another room that features earlier work dating back to 1997. For that series of pencil drawings, Ms. Sze asked her subjects to list 12 "seminial events in his/her life," and uses those to sketch an existence, rather than draw the person's face. These pencil drawings join the moments like sewer pipes. Mr. Meyer's features a small man at an auction lectern—but also a bathtub, a man being raised by other figures as he sits in a chair and a grandfather clock toppling over. To be fair, it's not certain that this is Mr. Meyer's portrait, as the piece is simply titled Portrait of TM (2003). However, it comes courtesy of someone named Tobias Meyer–the "collection of Tobias Meyer and [the auctioneer's partner] Mark Fletcher," to be exact. Similar sleuthing may also be applied to Portrait of JS (2007) from the Speyer Family Collection. (Lots of skyscrapers! Hint, hint.)