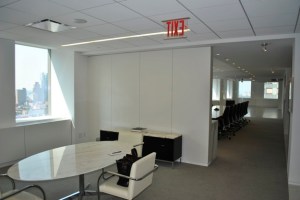 It looks like 3 Columbus Circle will not be a bust after all. SL Green has officially announced a deal for august ad agency Y&R to lease 340,000 square feet in the sickly cerulean tower, according to the Post's Steve Cuozzo. The ad men are renting floors 3 through 10 and 18 and 19, the latter of which will afford lovely views of Central Park.
According to the Cuozz, it was a sweet, if complicated, deal for both sides, especially after the space appeared to be in such dire straights.
Although terms of the total 340,000-square-foot commitment were not released yesterday, we've learned Y&R is paying about $144 million for the condo portion — 214,372 square feet on floors 3 to 8 of the reclad, upgraded tower.

That's around $671 per square foot — remarkable for a building that was near-vacant and in peril of foreclosure last year when SLG rescued landlord Joseph Moinian from a takeover attempt by Related Cos.' Stephen Ross(Moinian remains a partner).

Meanwhile, we're told, the asking rent on Y&R's leased space — nearly 125,000 feet on floors 9, 10, 18 and 19 — ran from $65 a square foot on the lower floors to $80 higher up.
The 19th floor is significant for being one of the few in the building with dramatic wraparound balconies overlooking Columbus Circle—perfect for wooing clients or loosing your lunch from.
Meanwhile, Crain's reports that SL Green has revived from its slumber and bought a new 26-story tower in Times Square. You just can't keep those tentacular guys down.