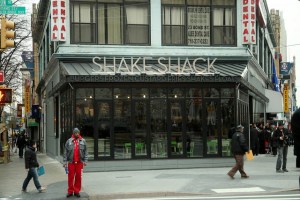 Just 20 minutes before opening Tuesday, there was no line outside the Brooklyn Shake Shack. Lines are as much a part of the burgeoning brand as grass-fed patties and seasonal custards. It is even part of the company motto, "Stand for Something Good." Both sidewalks of the Fulton Mall were clogged with shoppers, students and suits, but none of them had yet queued up outside the boutique burger shop, which was about to have its grand opening.
Marty Markowitz was there, though. He had even come the night before and helped himself to a double cheese burger, Shack-cago Dog, fries and one of the signature concretes (what Danny Meyer likes to call his Blizzards.) that had been named after him, the Fudge-gadabout. (The other was the Borough Precedent, with vanilla custard and granola, not exactly Mr. Markowitz's cup of custard.)
Mayor Bloomberg was on his way, not only to feast but also to boast—a city program had helped speed the opening, done in just under a year, and facilitated the hiring of 52 Brooklynites.
But where was the crowd? This was the great white hope on the Fulton Mall, the game changer that would gentrify this last unruly stretch in the heart of the once boisterous borough. The opening had been blasted across blogs citywide since it was revealed on Friday.
Had Danny Meyer's great Brooklyn adventure backfired?
Then, at about quarter to 11:00, they began to arrive, in ones and twos. The first in front of the tinted-glass solarium (reminiscent of a Wendy's, really) was Arthur Torkiver, wearing a green fleece and rimless glasses and sporting a thick brown beard. A student at Brooklyn Law from Midwood, he said he had always planned to be first, or at least second, through the door. He had subverted the line, though, by taking up a position at a law school building across the street. From there, he kept one eye on his case law, the other on the door, as he studied for exams. When the reporters began filing in, he decided to come down.
"It's a nice addition," Mr. Torkiver said. "There's a lack of eating options in the area. I won't have to choose between Burger King and Wendy's anymore." He said he would order his usual Shack Stack—a beef patty and a cheese-covered, deep-fried mushroom patty married on a bun—plus one of the new Brooklyn-themed concretes, the Urban Lumberjack, which Mr. Torkiver said contained bacon. "It sounds brilliant," he said. Actually, it was the locally purveyed Redhead bacon peanut brittle, one of many Brooklyn-centric mix-ins available—the Fudge-getaboutit has lip-puckeringly bittersweet chunks of Mast Brothers chocolate inside.
"I went to the one on Vecesey Street and it's a very decent burger," said a woman bundled up against the cold in down parka and skullcap and standing just behind Mr. Torkiver. "I was surprised it was coming to Brooklyn, but I guess this is the new Manhattan."
Michael Wasserman had come from Sheepshead Bay as a special birthday treat. He had taken off from work—his very pregnant wife also happened to have a doctor's visit in the neighborhood that morning—and he seemed the most eager of all. "I emailed the general manager last night," he said. "I didn't want to get here at 10 and find out they weren't opening until three." He said Shake Shack served his favorite burger outside of Williamsburg's DuMont.
The line was about a dozen deep by the time the mayor arrived a few minutes after 11:00. He swept inside with his security detail and placed an order to a flood of flashbulbs. "I just wanted to congratulate Shake Shack, they already have restaurants around Manhattan, at Citi Field, in Washington, Miami, Westport, Conn., Sarasota Springs race track, Dubai and Kuwait City, and now they've hit the big time, Brooklyn," the mayor said, adding, "I think Marty owes me for that one."
The borough president was indeed happy about his ability to simply cross the street whenever he wants his Shack cravings satiated. He even taught the crew a set of hand signals. "You look right through that window, that's my corner office," he said. "This," he made a peace sign, "means double. This," he held up one finger, "means a single. And this," a two-handed come-hither, "means bring it on." What a hamburger he is!
Steve Levin, the local councilman—who claims to have the best-tasting district in the city, stretching as it does from Greenpoint to Dumbo to Park Slope—said he would be the popular person in the City Council now that the Shake Shack had opened. "It's right between my district office and my legislative office, so I'll be able to bring plenty of snacks to my colleagues."
After the bright green ribbon was cut, The Observer asked Mr. Markowitz if he thought Shake Shack was not just another Manhattan interloper in his borough. "It goes both ways these days," he replied. "We've got people from Brooklyn and Brooklyn restaurants nourishing hungry Manhattanites here and there."
Darren Cole was standing nearby, one of the first people through the door to place an order—the staff had tricked Mr. Torkiver and his cohort, switching entrances from Fulton to Willoughby when the doors finally opened at 11:30. Another Brooklyn Law student, he said people were saddened when a rumor started going around that Tony's Famous Pizzeria was closing to make way for something new. "But then they heard it was Shake Shack, and they were cool with it," he said. "Pizzerias come by the dozen, but this is Shake Shack."
Still, the life-long Brooklynite could not seem to shake a certain sour taste in his mouth. "Yes, we're not Manhattan's stepchild, stepbrother anymore, but maybe you'd like to see less of a chain, more of a mom and pop," he said. (To think, Shake Shack now ranks as a chain. We remember when it was just a shack.) "Plus," he continued, "the culture of Brooklyn is changing and this helps facilitate that. Take it as you will."
By now, the restaurant was packed. The mayor was finishing his meal—he said he had ordered a hamburger and fries—seated at one of the high banquets with aids and a few security guards joining him. He kept inviting people to share in the bounty, as though he might devour it all himself. The Observer could not help but notice that there were no calorie counts posted on the signs.
Outside, the line ran halfway down the block, at the other end of which is a Burger King. A group of workers were leaving, meals in hand, when The Observer passed by. "I took one look at that line, and I said never in Brooklyn," said a gentleman named Eric who looked like he had eaten his fair share of Whoppers over the years. "I'm gonna wait until someone dies."
"You know someone will cut the line, there's gonna be a fight, and that'll be it," his colleague Michael said, helping to explain his friend's macabre vision.
"I'll wait until they clean the blood off the floor, then I'll be the first inside," Eric cut in. "There won't be any lines after that."