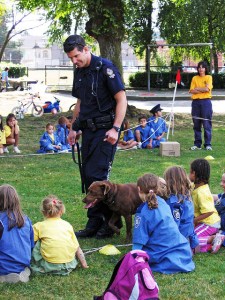 In a very clever campaign swipe, Occupy Wall Street is now co-opting this year's trendy "anti-bullying"  message–championed by Dan Savage, Lady Gaga, and the cast of Glee— and turned it into an "Stop Bullying Us, Ray Kelly and Michael Bloomberg" initiative. Starring your kids…marching in solidarity with the 99%! Because the police can't pepper spray children (fingers crossed).
From the OWS memo:

NY Parents & Children Rally Against NYPD Bullies
March in Solidarity with Occupy Wall Street
This Saturday, Parents for Occupy Wall Street will march with our children from Union Square to City Hall Park to deliver a "stop bullying" message to NYPD Commissioner Ray Kelly and his boss, Mayor Michael Bloomberg.  This event will mark International Human Rights Day. The children will place 5,000 paper hearts, one for each peaceful protester arrested nationwide over the past three months, in the center of the park.

WHEN/WHERE: Saturday, December 10th, in Union Square at 11 AM, the children will hold a General Assembly, and paint the paper hearts.  At 12:30pm, we will march down Broadway to Foley Sq. (State Supreme Court) and then to City Hall Park, arriving at approximately 2 PM.

"We teach our children at home and in schools that bullying is wrong," said Mark Hamilton of Parents for Occupy Wall St. "The violence by some in the NYPD against peaceful protesters is confusing our children; we are left to explain unprofessional and inexcusable actions."

"As proud New Yorkers, we've watched in disbelief as some of New York's finest have stepped above the law and used excessive force against citizens," said Kirby Desmarais, who organized a slumber party at Liberty Square in October. "New York is not a police state and we stand against this misconduct."

Parents for Occupy Wall Street is a community of parents and organizations who support Occupy Wall Street. #POWS encourages all parents to stand united and march with their families, joining occupiers, students, unions and New Yorkers of all walks of life, to demand that our law enforcement officers act appropriately and responsibly when serving their public.
Yikes. We're not sure that comparing the entire NYPD force is exactly the right tactic OWS should be taking right now. Nor is using small children has a human shield when these protests have an approximately 40% chance of violent altercation, is a good idea either.
On the other hand: Kids with paper hearts! AWW! Mayor Bloomberg's heart just grew three sizes bigger, and now he'll give back Zuccotti Park as Christmas present to all the WhOWS in WhOWSville.
(Photo via FoxTongue)