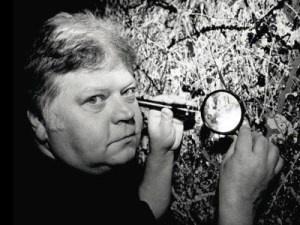 Peter Paul Biro, the art authenticator who slapped The New Yorker with a defamation suit after he was the subject of an article titled, "The Mark of a Masterpiece: The man who keeps finding famous fingerprints on uncelebrated works of art," is now suing more people including Gawker, Business Insider, Louise Blouin (owner of Artinfo) and Art Fag City. That original story, written by David Grann, questions Mr. Biro's methods of authenticating work through forensic analysis of fingerprints.
Here is a sample passage from that article, which New Yorker editor David Remnick defended to AdWeek as "painstaking in both its attention to the facts and tone" (the piece is long and involved and available in its entirety online):
"Lawsuits had piled up against Peter Paul Biro and his family business. In two instances, there were allegations that art works had vanished under mysterious circumstances while in the care of Peter Paul. In one of the cases, Serge Joyal, who is now a senator in Canada, told me that he left a nineteenth-century drawing with the Biros to be restored. Before he could pick it up, Peter Paul notified him that it had been stolen from his car and that there was no insurance. Biro, however, never filed a police report, and Joyal says that Biro pleaded with him to wait before going to the authorities. During their conversations, Joyal says, Peter Paul acted evasive and suspicious, and Joyal became convinced that Biro was lying about the theft. As Joyal put it, 'There was something fishy.' Though Peter Paul said that there was nothing 'suspect' about his behavior, and that he should not be held liable, the court awarded Joyal seven thousand dollars, plus interest.

Elizabeth Lipsz, a Montreal businesswoman who had once been close to Biro, and who won a lawsuit against him for unpaid loans, described him to me as a 'classic con man.'"
Mr. Biro is claiming the story was "widely circulated," and the media assumed his work was fraudulent, merely because of The New Yorker's celebrated reputation.
Many of the publications that are being sued for defamation have since amended the articles in question about Mr. Biro. Courthouse News Service notes Mr. Biro's inclusion in a list published on Business Insider called "Nine of the Biggest Art Forgeries of All Time." His name was subsequently  removed from that list (before the lawsuit); it is still available online and now contains the headline "Eight of the Biggest Art Forgeries of All Time."
Courthouse News also says that Mr. Biro alleges that Artinfo reported a story that read: "Biro was part of a family of art forgers, and that he had been planting the forensic evidence into the questionable works himself." A Google search for that phrase yields only one result: the Courthouse News article. A search for Mr. Biro on Artinfo did bring up an article about The New Yorker story in July.
As for Gawker: on its Gizmodo tech blog, an article read:
"This is Peter Paul Biro. Depending on who you ask, he's either using fingerprinting, forensic science, and state of the art spectral cameras to uncover lost art masterpieces, or using that same technology to manufacture them… Just like the art he works with, it's hard to pin down the true story behind Peter Paul Biro. But as shown in the New Yorker piece (which you should really read in full), Biro's complicated cameras and forensic techniques have only introduced a new layer of uncertainty to the hazier corners of art history."
That article is a pretty straight case of re-blogging. It's opinionated, but mostly about the article in question and not the subject of that article (and it does not assume Mr. Grann is correct, claiming instead that "the true story" is "hard to pin down").
We won't get into the details of New York's defamation laws and standards of negligence, but we will pose a question: are blogs that sounded off about Mr. Grann's article implicated in the alleged defamation for circulating the information another reporter reported?
[UPDATE]: Regarding the phrase allegedly published in Artinfo that we could not find online, according to court documents, which are available here, Mr. Biro's libel suit against the web site is regarding an interview conducted back in September:
"On or about September 16, 2011, defendant Louise Blouin Media published on its internet website the following exchange with one Noah Charney:

What do you think about DNA Security where a DNA Security Marker links art object with provenance documentation to provide authentication?

This sounds great in principle, but the dangers of such technological authentication systems were brilliantly exposed in a recent New Yorker article called 'Mark of a Masterpiece' by David Grann. It was the story of Peter Paul Biro, who began as a forensic science hero, discovering DNA and fingerprints of famous artists in questionable works (most famously a purported Jackson Pollock bought at a tag sale). But it was later shown that Biro was part of a family of artforgers, and that he had been planting the forensic evidence into the questionable works himself."
The court documents claim that "the last sentence is false and defamatory." The documents also claim a request to remove the exchange (it does not mention with whom Mr. Charney was talking with) was sent to Artinfo on September 21, 2011. According to the documents, the "exchange remained on ArtInfo's website for approximately one month after plaintiff's demand."
mmiller@observer.com