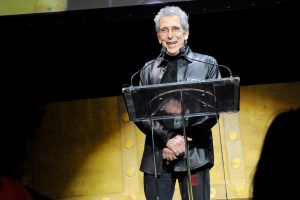 As Gallerist patiently awaits the arrival of the 2012 Whitney Biennial on March 1, we have been digging through newspaper archives and rereading some of our favorite articles and reviews inspired by biennials past. There is a lot to read!
Michael Kimmelman's often-quoted review of the 1993 edition is clearly of interest, because that year's organizer, Whitney photography curator Elisabeth Sussman is at the helm again next year, this time with former dealer Jay Sanders, and because it is absolutely vicious. "I hate the show," Mr. Kimmelman wrote.
However, our favorite piece from recent biennials is Paul Goldberger's profile of curator Klaus Kertess—another former art dealer—as he assembled the 1995 biennial. It's about 8,500 words, and completely worth reading all the way through, not least because Mr. Kertess is remarkably candid about the process of putting together the exhibition.
Messrs. Golderberg and Kertess visit the studio of painter Kerry James Marshall, for instance, and the curator admits he is unsure if he should include him. Mr. Marshall's dealer, Jack Shainman, sends him Polaroids of works in progress, "hoping to entice him back," but, in the end, the curator vetoes the artist. "I so wanted to do it, because I so admired how he paints outside the cliches of what a black artist should be," he says. "But there is an edge that I wanted that I just I couldn't find."
At least three artists declined Mr. Kertess's invitation: Bruce Nauman, who broke the news to the curator in a cowboy bar in Santa Fe, called Tiny's (he was busy organizing his retrospective); Lee Bontecou, who wrote "to say that she had had enough exposure, thank you"; and the reclusive Hamptons painter Albert York, "whom Kertess could never reach directly, [and] didn't have any new work suitable for inclusion, according to his dealer." Cy Twombly also ended up presenting a difficult situation, thanks to the stipulations of Cologne dealer Udo Brandhorst.
We won't give away anything more from the article. Just give it a read when you have a few minutes. Epic stuff.