U.S. Sen. Chuck Schumer said that negotiating with House Speaker John Boehner is like "trying to nail jello to the wall," during an appearance on "Morning Joe" today.
"He keeps moving the goalposts back because he can't control his caucus and they are running off a cliff and he is following and not leading."
Over the weekend, President Barack Obama and the Senate struck a deal to extend the payroll tax cut for two-months. If the tax cut were allowed to lapse, it is expected to put a damper on the economy. Lower income voters would be the hardest hit. Speaker Boehner expressed support for the deal, but later recanted in the face of growing opposing among conservatives in the House.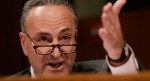 He has instead been pushing for a year long extension of the kind that President Obama originally wanted but relented on in the face of Senate Republican opposition.
"Speaker Boehner has two choices and there are only two. The first is to pass the bill, the  bipartisan bill that the Senate passed 89-10, vast majority of Republican, lot of Tea Party guts voted for it. The second is the middle tax cut will lapse and he will be responsible and I don't think he wants that," Mr. Schumer said.
Senator Schumer is the message man behind the Democratically-controlled Senate, and he seemed to be trying out a line of attack for 2012, for both the president and members of Congress running against the GOP: The Republicans are being held hostage by the far-right Tea Party.
He said, for example, that Mr. Boehner won't pass the bill "Because he is afraid of the 80 Tea Party way out there people in his caucus and he is letting them run his caucus, run the House and try to run America. It's no good for anybody."
More below:

Visit msnbc.com for breaking news, world news, and news about the economy