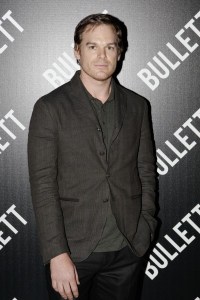 The invitation was a study in negative space: black letters embossed on black velvet. It was a gimmick we had only seen once before: at a party, years ago, when Ricky Kenig, the founder of the eponymous chain of expensive-makeup-and-slutty-costume emporia, had pressed into The Observer's hand a black velvet business card that read simply "Ricky," and on the other side, "…from Ricky's," with a telephone number and a Gmail address.
Truth told, the existence of a physical invitation in the first place was enough to pique The Observer's interest—it felt more significant than another rushed email from a harried publicist. This one invited its recipient to celebrate the one-year anniversary of Bullett magazine, one of those quarterly fashion and culture glossies you can find at the kind of Nolita barbershop that also serves whiskey. In a tiny font near the bottom, the invitation offered: "Bring this amulet for VIP admission." Did we forget to mention the amulet? A tiny skull on a green cord, with a complicated knot holding it in place, came wrapped around the invitation. We were intrigued.
On arriving at the Angel Orensanz Foundation, on Norfolk Street, things still seemed promising: lush vegetation covering every appropriate surface had transformed the space, a former gothic-revival synagogue. The party, we learned, was being hosted by Dexter's Michael C. Hall, the cover star of Bullett's "Secret Issue," who was probably in the mood to celebrate: his divorce was finalized earlier in the week. Optimistic, we entered the jungle and scanned the crowd—and found a mass of unfamiliar faces, optimistically scanning right back.
Maybe, we figured, we'd have better luck upstairs, in the VIP section. The girl guarding the black curtain separating the specials from the norms was initially reluctant to let The Observer pass.
"I have, uh, an… amulet," we said, hating that it had come to this.
She relented, finally. "Don't embarrass me in there!" she chirped. But there was nothing we could have done to embarrass her even if we'd wanted to: it was dead, save for a few people quietly talking and surveying the room below. The chatter tended toward the financial—and unusually blunt. "He owes me a lot of money," a man with a chaotic blond haircut said forcefully. "If he won't take it, I've got another buyer." At the bar, a guy with gauged ears told an angel-faced boy in a Cosby sweater: "The art money is fucking crazy."
Back downstairs, we resolved to figure out where everyone was. We ran into a friend who'd heard a Culkin was around somewhere, and resolved to keep an eye out. A man with a clipboard offered the chance to talk to an actress of whom we hadn't heard.
We politely asked what she'd been in.
"Oh, umm…," he replied, then scuttled away, never to return.
We decided it was about time to leave when even the décor started falling apart: a massive tree fell into the dance floor during Crystal Castles' DJ set. The answer to that old riddle, updated for downtown New York, goes like this: if a tree falls in the middle of a Lower East Side party, with dozens around to hear it, everyone will take pictures on their iPhones instead of trying to help. (One young man, who'd been passing out copies of the magazine, did try. He began to dance furiously nearby—in order, we supposed, to distract attention.)
Outside, we noticed a young man holding one of the branches that had recently served as décor. It was massive, and we wondered what he planned to do with it.
"I'm going to put it in a big bowl of hot water and smell it," the man, who was Venezuelan, said. He beckoned to The Observer to sniff it. "Eucalyptus!"
The Venezuelan's friend had successfully hailed a cab, and was impatient for the Venezuelan to join him in it. He invited The Observer and her friends to come to the after-party with him.
"Where is it?" we asked. He shrugged, helplessly, and we demurred.
Oh, and as for the amulet—The Observer's been carrying it around in her bag for a week now, and not a single magical thing has happened. And the day after the party, a near-identical one was featured on a "DIY Gifts" slideshow on Refinery29.