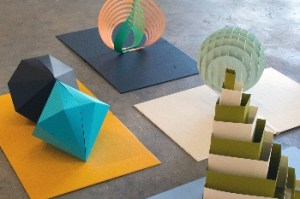 Last night at Printed Matter in Chelsea, the artist Tauba Auerbach debuted [2,3], a pop-up book. It was quite a serious pop-up book, mind you, with over-sized dimensions and considerable heft. Men were walking around the space and moving boxes that housed Ms. Auerbach's creation—which has a print run of 1,000 copies—and as they did, their faces turned red and wrinkled and the veins in their necks bulged.
The six sculptures inside are in line with Ms. Auerbach's style, a blend of understated structure and more imposing texture and color. The project was spearheaded by the artist AA Bronson when he was the director of Printed Matter. He stood in the back of the room by a stack of the books and called himself a "proud daddy."
"I was trying to make paintings that were somehow fractional and dimensional between 2D and 3D," Ms. Auerbach told us. "So I got these Japanese books on how to make greeting cards that did simple pop up things. I learned that way. Then I just became… preoccupied with the engineering challenge of doing this on a bigger scale. Then I just… couldn't stop. I made these prototypes at this size and was thinking wouldn't it be really great if they could be really large and really complicated? And not just be for kids!"
There were only two places in the world that could print [2,3] and both of them are in China. The one held onto Ms. Auerbach's prototypes for a long time before it became apparent that they didn't know how to make the book. Luckily, the second place was more accommodating.
Ms. Auerbach was wearing bright pink lipstick and a bulky neon-yellow bracelet, the one she designed for Ohne Titel, that resembled some of the shapes in the book. We asked her if her attempts at making 3D paintings informed the Weave painting she had on display at the booth of Paula Cooper, her dealer, at Art Basel Miami Beach. That work, made with woven canvas, resembled something like a wicker basket crossed with Frank Stella's early paintings; it seems to occupy the space between 2D and 3D she was initially trying to get at.
"I feel like the best ones are still ahead of me," she said, "but my objective is to articulate something with only structure and no pigment and no light or shadow." She paused. "Maybe everything is connected though."