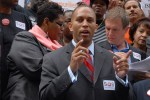 A couple of readers have passed along the following invitation featuring Assemblyman Hakeem Jeffries in a public conversation with Danny Simmons.
A few thing to note here: Firstly, the invite rather baldly proclaims Mr. Jeffries to be a "2012 Candidate for Brooklyn's 10th Congressional District," which seems to imply that we can take the Assemblyman out of the "exploring" category.
Secondly, the conversation features Danny Simmons, a Brooklyn artist and the brother of hip-hop mogul Russell Simmons, who has been a key activist in a number of local political fights, including over Rockefeller Drug Law reform and more recently, the Occupy movement. Also on the invite is Michael Skolnik, a filmmaker who is listed as "an adviser to Russell Simmons."
Finally, the fundraiser is a little ways away from the rubber chicken dinner circuit–instead it is billed as "a conversation on the challenges facing the Brooklyn arts community."
Writes Mr. Simmons:
It is a critical time for us.  As Brooklyn has expanded its varied offerings in new and contemporary arts, added new organizations and grown its real estate, we have lacked a comprehensive plan to address the vital concerns of the artists that create the work. As many of you already know, both affordable housing and available work space for Brooklyn's artists have been diminishing. Smaller organizations that support arts education and develop emerging talent are struggling to survive. In order to continue the growth of the arts in Brooklyn, we will need to explore new ideas that will address problems and push this borough further as the creative center of NYC.
Full details are below: