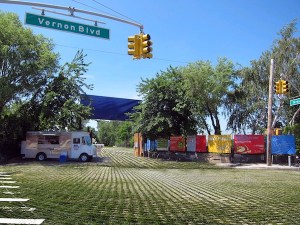 Imagine that, in the spring, Long Island City is transformed by the artists who have for decades called the neighborhood home.
Running down Broadway, one of the Long Island City's main axes, is a green lawn from curb to curb. It stretches from the shore to the elevated subway station three-quarters of a mile away. A High Line at street level, the refashioned road is traversable by cars and trucks, thanks to special pavers installed by Rirkrit Tiravanija. Occasionally, the east-west thoroughfare is closed, for movie nights and flea markets, all the hallmarks of a burgeoning post-bohemian neighborhood.
A few brave souls, rather than ambling along the new grassy causeway, fly over it, suspended in one of Natalie Jeremijenko's hang-glider like Flightpaths, a project she successfully installed two years ago in Toronto. There are mechanized duck decoys floating in the channel between here and Roosevelt Island, monitoring the biodiverCITY. Visitors take in the East River from a new waterfront esplanade designed by George Trakas, stretching from the Ed Koch Queensboro Bridge, along the old industrial waterfront and past Socrates Sculpture Park.
From the esplanade, visitors observe the new quality-of-life indicators installed by Mary Miss on the Big Allis stacks. The red-and-white striped chimneys have dominated the Ravenswood skyline since 1965, when the power plant, then the world's largest, opened. (As a name for the neighborhood, Ravenswood dates back almost two centuries. Ms. Miss and her collaborators are trying to revive it, setting the northern half of the neighborhood off from its condo-covered south.)
Farther inland, construction scaffolds do double duty as hanging gardens; there are tractor-trailer artists studios and design labs, and lamp posts painted red-and-white, which broadcast a new vision for the neighborhood Ms. Miss also likes to call CaLL, short for City as Living Laboratory.
If that sounds like a wild, artistic utopia on the left bank of the East River, it is. But that is how two of its first pioneers, Isamu Noguchi (who died in 1988) and Mark di Suvero, viewed the neighborhood when they moved in 50 years ago. Only now is it being realized on a scale that goes beyond their respective studios, which stood across Vernon Boulevard for decades. A Costco, not quite part of this idyllic vision, lies in between.
For its first show of contemporary artists, Long Island City's Noguchi Museum has decided to turn to the canvas its late founder and his friend and neighbor had so long explored personally and artistically. Rather than simply install works in the landscape or create ones inspired by it, the museum charged Mr. Tiravanija, Ms. Jeremijenko, Mr. Trakas and Ms. Miss with rethinking Long Island City itself. The artists, working with teams of architects, planners, historians and writers, created new ways of interpreting and enlivening the urban fabric. The goal is to embrace the community that already calls it home as well as those who might soon come—a horrendous 19-story condo tower a block north of the Socrates is the sort of thing the two institutions are guarding against.
"Isamu and Mark really cared about this place, they sought it out as a space apart from the rest of the city," Noguchi director Jenny Dixon told The Observer in October, at the opening of Civic Action: A Vision for Long Island City. "We've watched the neighborhood change over the years, and we believed that the right group of artists would be able to continue to help shape its future, as they have in the past."
Yet the visions housed in the second floor galleries at the Noguchi will probably never get much further than the white walls and tables on which they are arrayed from now until the middle of April. There will be a companion exhibition this summer at Socrates, where, after some workshopping, pieces in the Noguchi show might be realized at full-scale, such as a geodesic shelter designed by Mr. Tiravanija to house one of his signature Community Kitchens. Alongside it might be one of Ms. Miss's tractor-trailer incubators or a "Multi-Species Crossing" road sign by Ms. Jeremijenko. But the odds that Broadway will go green or take flight seem slim.
"It could happen," Ms. Dixon countered.
And in many ways, it already has—in Long Island City, throughout New York and around the world. This is not simply an expression of the neighborly spirit embodied by Noguchi and Mr. di Suvero. This is also part of a fledging cultural movement taking root in institutions big and small, a movement The Observer likes to think of as Museum Urbanism.