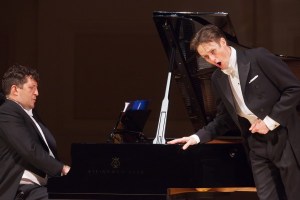 On Monday night in Carnegie Hall's Stern auditorium, audience members seemed to scan the empty stage for signs of life as they anxiously awaited tonight's performers, British tenor Ian Bostridge and pianist Thomas Adès. It was already ten minutes past 8:00 p.m. and we had yet to see as much as a tuxedo coattail wave from behind the stage door. The lights dimmed briefly before springing back to full strength in what was either an attempt to settle the fidgeting audience, or the accidental slip of a techie's elbow. We couldn't be sure.
Eventually, the lanky Mr. Bostridge drifted across the stage, briefly smiling at the audience before taking his place in the crook of the piano. Standing well over six-feet and graced with a boyish features, Mr. Bostridge appears as a teen in the midst of an awkward growth-spurt. He cued Mr. Adès with a smile, who began the first selection, John Dowland's Elizabethan "In Darkness Let Me Dwell," a dirge-like piece with a celebrity following – Sting has covered it – that set a a somber tone for the remainder of the recital, which featured an abundance of melancholic Heinrich Heine poetry. Centering around themes of depression, alienation from society, and unrequited love, the composers featured in the evening's performance ranged from the lesser-known György Kurtág, to leaders in Lieder Schumann, Schubert and Liszt.
The highly-acclaimed Mr. Bostridge possesses what is undoubtedly one of the beautiful instruments on the classical scene, his ethereal lyric tenor lending itself especially well to Benjamin Britten and the Baroque repertoire. Mr. Bostridge, who was a post-doctoral fellow in history at Oxford before embarking on a singing career, has gained fame performing roles such as Quint in Britten's The Turn of the Screw at the Royal Opera House and Tom Rakewell in The Rake's Progress at the Bayerische Staatsoper, having recorded on over 18 albums along the way. Meanwhile, his accompanist for the evening, Mr. Adès, is an award-winning composer, conductor and pianist, and will conduct his opera, The Tempest, at the Metropolitan Opera next year.
Mr. Bostridge's voice carried magnificently through the acoustically generous Carnegie Hall as he expressed himself passionately throughout  Schumann's Dichterliebe ("Poet's Love"), a challenging 16-song set that takes the listener through the throes of a love ultimately lost. His excellent German diction served him well on quick pieces such as "Die Rose, die Lilie, die Taube. die Sonne," while the legato lines in "Wenn ich in deine Augen seh" were handled with tremendous tenderness. "Ich liebe dich" cooed Mr. Bostridge in a gentle piano, a similar sentiment displayed on his angular visage.
However, Mr. Bostridge is as expressive physically as he is vocally, a tendency that The Observer found incredibly distracting. With such a praiseworthy voice requiring our full attention, we would have preferred that he not pace around the stage or allow his body to sway so exaggeratedly. During the quick runs in Schubert's Das Fischermädchen, Mr. Bostridge gripped the piano with both hands, moving from side to side with his chest hoisted in the air in apparent agony. Not to say that physical expression doesn't have his merits, we simply wished he would have limited himself to, say, expressive facial gestures and a 3-foot radius.
Preceding the intermission, Mr. Bostridge seated himself on a chair in the shadows, passing the spotlight to Mr. Adès, who performed an incredibly moving rendition of Liszt's Petrarch Sonnet No.123 from Années de pèlerinage. As he played the final broken chords, the audience was drawn to disregard protocol and applaud ferociously. Liszt songs have been popular this concert season in New York, as many of the same pieces were heard at Jonas Kaufmann's Met concert and Angelika Kirchschlager's Carnegie Hall performance last month. Yet, Mr. Bostridge's interpretations of Franz Liszt's "Orphan songs," as the composer referred to them, were particularly well-executed.
The final set of Schubert pieces, Schwanengesang, D. 957, featured more of Heine's bitter poetry, narrating the story of the protagonist's painful withdrawal from society. Mr. Bostridge played the part convincingly, often grimacing at the audience during the angst-filled final piece "Der Doppelgänger" as strands of his pomaded locks fell haphazardly across his brow. "You wraith! You pale companion!" he sang with rage, contorting his body in believable anguish. After enunciating the final crisp consonant, he turned to Mr. Adès, who played the piece's final somber notes.
Bowing to tremendous applause, the duo returned with an encore piece, Caliban's aria from The Tempest, a well-received advertisement for Mr Adès's Metropolitan Opera performance next year.
Despite the gloom pervading much of the repertoire, Mr. Bostridge's expressive singing and beautiful take on some of the most beloved German Lieder stayed with us late into the evening as we pivoted on our toes, swaying our way through the crowded streets.