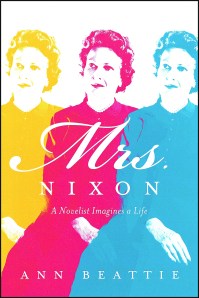 Has there ever been a blander public figure than the wife of Richard Nixon? She was Thelma Catherine Ryan at birth, Babe in the Morn to her dad, Mrs. Nixon to her husband and the British Queen; but she is remembered, if at all, as Pat, the woman who stood by Tricky Dick. She was a lover of far-flung plane trips, who wore her hair in a globelike, reddish-blond bouffant, and a diffident celebrity, whose lapses were rare but telling. In 1968, while "Dick" was running for president, she appeared on television with Bud Wilkinson and Paul Keyes. At one point, the audience, cued by a prompter, applauded an answer she had given to one of Wilkinson's questions. Mrs. Nixon applauded along with them. "She then made a second mistake when she realized what she'd done wrong," recalls Ann Beattie in her strange new novel, Mrs. Nixon: A Novelist Imagines a Life (Scribner, 304 pages, $26.00), "and put her hands over her eyes." It is emblematic of the many ironies of Pat Nixon's life that she should have illustrated the limits of self-effacement on national television.
The gaffes were forgiven, and Dick was elected president later that year; yet one senses that Mrs. Nixon never really removed her hands from her eyes. She was a prim and oblivious First Lady, whom David Halberstam described as "heartbreaking." Though she urged her husband to destroy the audiotapes that ultimately implicated him in the Watergate break-in, she had little notion of their contents. It is widely accepted that the shock of reading The Final Days (1976), Bob Woodward and Carl Bernstein's exposé of the months preceding Nixon's resignation in 1974, was so profound that it caused Mrs. Nixon to have a stroke. "I don't daydream, and I don't look back," she is quoted as saying. "I think what is to be will be, and I take each day as it comes." The credo leaves little room indeed for romantic notions of her inner life.
What is a writer to do, then, with such slight material? One of the surprises of Mrs. Nixon is that it is not always about Mrs. Nixon. It is not a biography, nor is it a work of historical fiction. Instead, it attempts to formally embrace what Ms. Beattie describes early on as "the drift [that] seems endemic to writing about … Mrs. Nixon." The result is duly drifty. Readers used to the flow of more straightforward prose may find themselves, rather like Mrs. Nixon herself, slightly at sea.
To this "generic president's wife," Mrs. Nixon brings a quirky gallimaufry of literary genres. There are lists, letters, captions without photographs, a half-dozen exempla of recondite lit-crit terms. (At least one of which Ms. Beattie has gotten embarrassingly wrong. "You and Henry ordering the 'Christmas Bombing' was pesky!" is not, on examination, "an example of litotes." Once you get past the grotesque glibness of it, you see that it is plain old understatement.) There is a Los Angeles Times obituary, reproduced in clashing sans serif fonts, and a fraudulent personal anecdote, to which the author eventually cops. There is even a rather slaphappy parody of F. Scott Fitzgerald. "He blew gently on the ink," Ms. Beattie writes, "with so faint an exhale it might have been the stars' own breath expelled."
Mostly, though, there are vignettes, extracted from the life of the Nixons or inspired by it—or, in some cases, insouciantly slotted into it. In one chapter, "A Story Occasioned by Considering Richard Nixon and Dolphins," Ms. Beattie places Richard Nixon in Florida, where he is dressed for a swim on the edge of a dolphin tank. (The episode is fictional.) As the chapter's title is informative, if a bit twee, so its contents are mirthful, if a bit broad. Disinclined to get in the water, Dick instead undergoes a series of humongous moods. He despises his bodyguards; he delights that his daughter Tricia likes to read William L. Shirer; he declaims some "Prufrock" to Bebe Rebozo, who is there for the swim as well: "I have heard the mermaids singing, each to each, all of that." Rebozo misses the reference.
These vignettes are bulked out by reflections on points of fictional technique, which Ms. Beattie bases in examples drawn from her personal canon of first-rate writing. She reads Chekhov, Maupassant, Hemingway; she even reads "my story (ahem) 'Desire.'" Most often, she returns to Raymond Carver. "Raymond Carver is amazingly good at altering tone and pacing," she writes, "using repetition of what's obvious in the action almost as an anesthetic swab that precedes the shot." It is an exquisite piece of criticism, undiminished by its unlikely setting.
"I am very happy to find myself paired with Mrs. Nixon," the author writes, "a person I would have done anything to avoid." Devotees of Ms. Beattie's fiction may recall that she has written about Mrs. Nixon before. In "Wolf Dreams" (1974), published when Ms. Beattie was 27, a confused young woman writes a querulous letter to President Nixon. "Tell your wife she's a stone face," she concludes it. Thirty-seven years later, Mrs. Nixon is dead, and Ms. Beattie is in her 60s. The stolid laughingstock of her youth now presents a softer aspect. (Ms. Beattie quotes W.H. Auden: "Time will say nothing but I told you so.") "As we get older," Ms. Beattie writes, "we realize the price people pay for posing in the portrait, in effect. Writers might also feel that sometimes they can rescue the moment, even rescue the past."
There is thus a touch of the touch up about some of the writing, the faint drone of forced upbeatness. "She looked at the world as … inherently full of possibility," Ms. Beattie claims; and then later: "Mrs. Nixon's love of travel was part and parcel of her love of freedom." But a love of travel could just as easily indicate a mere loathing of being at home. The author's bright fiction of Mrs. Nixon is continually darkened over by the looming fact of Mr. Nixon, the bullying paranoid, who himself "used fiction for manipulation": "What seemed mysterious," Ms. Beattie writes, "was that a specific person had determined [Mrs. Nixon's] fate—and how often does that happen?" She notes pointedly that it usually happens only in books.