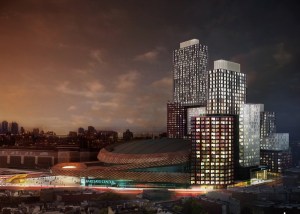 For nine years now, Bruce Ratner has talked of transforming Brooklyn with his Atlantic Yards project. Bringing professional sports back to the borough, creating a new skyline, "a neighborhood practically from scratch," as architect Frank Gehry once described it. There would be union jobs and affordable housing for all to enjoy.
As of now, only basketball and a handful of those jobs are guaranteed, all of which took three times as long as originally planned. Mr. Ratner and his partners like to blame the economy and the holdouts who sued to save their property, but the fact remains, they are running well behind schedule, possibly even in violation of previous commitments made to the state when the project was approved.
To catch up, Forest City Ratner has come up with a novel solution for myriad problems with his project: modular construction. More than transforming Brooklyn, Mr. Ratner may transform the way the entire city, even the world, builds. At least that is his hope.
"It's taken us a while to get there on the architecture," Mr. Ratner told The Observer last month on the day he unveiled his new plans for a modular approach at Atlantic Yards. "We did a lot of work to make sure it was something appropriate, in fitting in with the arena and a good reflection on Brooklyn, the city and our country."
He is not alone in his optimism, either.
Mr. Ratner claims that with his new building process, not only will he be able to build by far the largest modular project ever, a 340,000-square-foot apartment tower rising 32 stories over Flatbush Avenue, but he will do it at a savings of 20 percent over conventional construction. He is working with an unproven technology that has been a dream of architects since Henry Ford began rolling cars off the assembly line a century ago.
Small advances have been made in the intervening, but nothing close to what Mr. Ratner is proposing has been achieved until very recently, and even then, there are questions about the viability of a project at the scale he is proposing. Mr. Ratner has admitted to falling under the spell of a YouTube video that demonstrates the current promise: a 15-story hotel erected in China in two days and finished several days after that. "That was the icing on the cake," he said, "but we'd already been working on this for a while."
There are those in the construction industry who view this in-sequence proposal with skepticism, but there is an equally strong tendency to simply build the next building just like the last one. Things have changed only so much since the pyramids. At the same time, Mr. Ratner is in the process of winning over once-wary construction unions. They had once feared losing good-paying jobs over a quicker, cheaper building process, much of the savings of which comes from off-site construction, but a number of union officials The Observer spoke with were sanguine about the prospects presented by prefab. Forest City is in the midst of negotiating the specifics of its plan with them.
"I think prefab is the wave of the future, and I think it will come to New York," said Patricia Lancaster, a former Department of Buildings commissioner now teaching at NYU. "The only question is when and how much power the unions have to do something about it." She points to the expiration of the New York Plan in January, the overarching arbitration agreement that governs the unions. "After that, anything could happen."
Forest City is proposing building 40 percent of its project out of more than 930 modules, which will be made in a factory, trucked onto the site, hoisted into place and finished there. Because the prefab process reduces the materials, time, energy and exposure of the total project, as well as employing lower-cost union labor, it could greatly reduce the price of the project. Forest City predicts 20 percent savings from these measures, and hopes to drive the cost further down, as it continues to build the rest of its 15 apartment towers on the 22-acre site.
"Atlantic Yards is the only place this could ever happen," Forest City Ratner executive vice president MaryAnne Gilmartin said. "Nowhere else could you find the scale to justify building a new factory on spec."
Once the project is up and running, Forest City believes its presumed success will attract other developers to the modules, which are being built by a firm called XSite. Forest City's requirements drove off a handful of modular firms considering working on the project, as revealed by the dogged blogger Norman Oder in October. One of these, Kullman Offsite Construction, sued XSite, as a number of the firm's employees left and ultimately joined Mr. Ratner's efforts. The suit was dismissed in July.
"In a way, it's been an R&D project, not just a 'D' project," Mr. Ratner said.