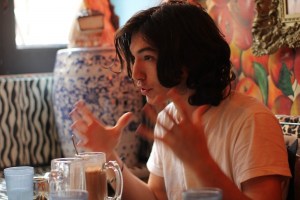 At the recent New York premiere of We Need To Talk About Kevin, a scruffy looking kid with thrift store apparel and long-unattended to hair, told The Observer of the decision he's made to never play a character  he doesn't deem "honest". We had just seen him depict an intense psychological battle with his on screen mother, Tilda Swinton, which concluded in the most unforgiving of ways.
Ezra Miller, the young man in question, is promoting not just We Need To Talk About Kevin but also Another Happy Day. In both films, he plays troubled teenagers, giving performances so convincing that he is now in danger of being typecast as the troubled young mind of psychological indie films. What happens once he's traversed the murky waters of adolescence and appearance, alone, prevents him from performing such roles?
"I've been holding out. I am reading a lot of scripts but saying no to a lot too. I think it pays off to wait for the right one," he told us, while sipping a latte at one of the holographic tables of Yaffa Café, on St Mark's Place. He spoke to The Observer, about the "sacrifices made by artists" – because of the choice between all round commercial success and personal fulfilment. Right now they co-exist for him, although, he's conscious "there will be times in the future that are difficult."
The hype surrounding the 18-year-old actor, suggests an inevitability to his success. Born and schooled in New Jersey, he dropped out of education at 16, a decision that he describes as "a necessity".
"I was an outsider because I had these endeavours that took place away from what is primarily an insular place". He offered, with a strong self-awareness that is prevalent in his work. "One of the things I appreciate about acting is this process of rediscovery, after you strip yourself down to your most basic form, in order to inhabit another person."
On the surface, it appears that he can empathize with the troubled minds he portrays. It must be true that he connected with the character of Kevin, at the very least saw an "honesty" in the role to have taken it. Looking at his IMDB, complex and ultimately threatening characters are the most honest ones, to Mr. Miller.
"When I was seven I had this increasing want for horror. My Dad would read me things like Stephen King. I remember being completely fascinated by Edgar Allen Poe because I found his collection. His whole life was about loss. I would definitely play him…As soon as I've worked on my moustache."
So would he find it easier to connect with real-life characters, we wondered?
"No. Not Vanilla Ice," he said, calling to mind the unlikeliest candidate he could. "I cannot find anywhere in me, any sense of connection with Vanilla Ice. I just think, you know, what was he doing for all those years?"
Mr. Miller's indie cred does not stop at films, however. At the age of six, he landed a role in the U.S. premiere of Philip Glass's opera, White Raven, and he is now a drummer and singer in the Americana / Black Metal / Soul Band, 'Sons of an Illustrious Father', who have just released their second full-length album.
Band member and childhood companion of the actor-cum-singer, Lilah Larson, described the difficult time he faced in adolescence. "I've known Ezra to have many struggles but luckily, he's the type of person who uses pain well, who lets the breaking open be a growing." She told The Observer via email.
In June this year, Mr. Miller was charged "…with disorderly conduct. That's all," he interrupted.
He was in possession of 20 grams of Marijuana, whilst the passenger in a fellow actors car. "I had pot on my lap, pot on the floor, on the seat. There was pot everywhere," he recalled. Rather than being concerned with public image or future job prospects, he took a more worldly approach to the charge. "The one thing that I learned from that was about the interaction between police and media," he mused. "There's this chief of police who's ringing up the papers to tell them about some person of interest 's wrongdoing."
"I paid the fine in cash just to make my point."
This seems to slot in nicely with the polarized nature of Mr. Miller's life.  He is young and has strong opinions, he believes in equality, has natural urges to be a participator and lives in Chelsea—a description that reads like a recruitment ad for Occupy Wall Street, and he was at Zucotti Park on the day they got evicted.
"We were at the Another Happy Day party, standing on the roof of The Standard, having a cigarette with Julian Schnabel. Like, this was a great time. Then we all got a message, because we're on the mailing list, saying Zuccotti Park is being evicted. So we ran out of the party and went down to the park. We hadn't been there two minutes when one of my friends got hit with a shield. Lilah got punched and tear gassed and Eamon, who is also in the film, got put in jail and denied access to his essential medication."
Would he entertain a part in OWS The Movie, we asked? "Oh man. I'd have to read the script first. I don't know whose writing that."
Mr. Miller is in constant search of ways to break himself down and build himself back up, in the tradition of his predecessors. In fact, there is a long list of names before him, many of who have succumbed to mental illness by method acting. Outside the cafe, whilst taking quick drags of a rolled up cigarette he offered us a thought, Mr. Miller expounded on the way we live now.
"People in America will always choose the things that kill them fastest," he thought aloud. "Filterless cigarettes, pizza, Justin Beiber. " Pausing to contemplate, he added, "Justin Beiber is a murderer."
Soon after the interview we spoke with Ms. Larson about her band-mate, perhaps voicing some unwitting bias. "There is a public myth of Ezra as this dark devilish guy. He does have a lot of demons, as do we all, but he's also a lot of the time the funnest, funniest, most adorable, cuddly, playful guy."
As an actor, Mr. Miller admires Phillip Seymour Hoffmann, who has progressed through a wide range of roles in a long established career. "I'm always seeking to push myself and strip myself down more and more every time."  And it feels as though, if he chooses the right scripts, he could well have a long career ahead of him too. Certainly something Ms. Larson agrees with:
"The acceleration that's going on right now is something that's been in Ezra's life for a long time, a sort of inevitability. This was always going to happen. He was always going to do great things."
Mr. Miller seems old before his time, both in his work and at home (or at Yaffa to be more precise).  He is eloquent and curious, reading about quantum physics on his evenings off. He doesn't like parties and would prefer to go to an event where "everyone knew why they were there." But he is also refreshingly young, with teenage confusion that far surpasses his generation.
"The first phone call with my Mom after this intense month of inhabiting Kevin was so soothing, so comforting, to have that idea of myself again."
He has just finished filming The Perks of Being A Wallflower, in which he plays a senior in high school who shows "an introvert freshman…the real world." In the future he aims to keep pushing himself.  So surely playing Vanilla Ice will be the pinnacle of his career?
He laughs, gradually becoming pensive. "Yeah. I suppose that's the aim."
hkrempels@observer.com