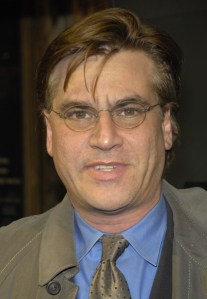 If you're still on The Internet and/or not checked out of your job in media or publishing for the week already, that brief rumble you're about to hear is the collective groan as word spreads on the title of Aaron Sorkin's new HBO drama:
The Newsroom. Yes, via Deadline Hollywood MediaBistro's TVNewser (earlier this month)*: The Newsroom.
The show was tentatively/previously titled More As This Story Develops, an name that lends itself to slightly less hubris than The Newsroom in the way The West Wing could've just been called The Oval Office or The White House or simply The President. Of all the films made about media, none of them quite match up to Network, and those with more self-important titles, like:
The Paper
Broadcast News
Interview
Celebrity
And so forth have paid a price for their boldness up front: falling short of Network.
Let's face it: Even Keith Olbermann—who Sorkin's new leading character, Will McCallister (to be played by Jeff Daniels), is loosely based on—isn't pompous enough to call his own show The Newsroom. It's not the title of something Sorkin ruined for everyone; it's the title of something Sorkin should've never used. Also, Sorkin hasn't done well with TV title switcharoos: the last time it happened, Studio 7 on the Sunset Strip became Studio 60 on the Sunset Strip. Etymological semantics? Maybe.
Enough to give us premonitions of what's in store,** especially in the wake of the fact that HBO has yet again shut down more beloved shows just this week? Absolutely.
HBO dropped the title in a new promo spot, seen here:
[*Apparently, Deadline Hollywood claimed this story as news tonight when in fact, as it was noted to us, MediaBistro's TVNewser blog broke it almost three weeks ago. But we'll keep this up because we've got a nice timely peg with HBO's destructive act of subscriber sadism in canceling Bored to Death. **That said, we've read two drafts of the script and loved it. And to that end? We said the same thing about Studio 7.]
fkamer@observer.com | @weareyourfek