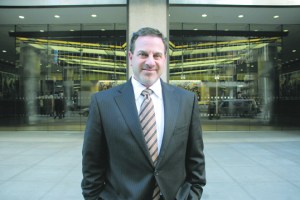 Even in Manhattan, a building can go stale.
In Midtown South, for example, a commercial property can amass a litany of blue-chip legal practices and financial services firms in one decade, and then, 10 years later, watch as its tenant portfolio withers in prestige.
Take 2 Park Avenue. The building once served as the base of operations for Newsday and Times Mirror Inc. back in the 1980s and 1990s and more recently for The Hartford, the Connecticut-based insurance company.
But newspapers and insurance companies are far from lustrous in a real estate market that has seen an influx of younger and savvier tech companies infiltrate an area like Midtown South, which boasted the lowest vacancy rate in the country in the third quarter of 2011, according to a Cushman & Wakefield report released in October.
"Like anything else in life, things go stale, and you need a fresh face," said David E. Green, 47, an executive director at Cushman & Wakefield who has also worked for Sutton & Edwards, Harry Macklowe and others through his 25-year career in the business.
Mr. Green and a Cushman & Wakefield team became the exclusive leasing agents for 2 Park Avenue in 2010. This was Mr. Green's second time working with the vibrantly designed, landmarked, Art Deco building, the first coming during his time at Vornado Realty Trust, which owned the building then (Morgan Stanley Prime Property Fund now owns 2 Park Avenue).
When the Hartford agreed to take 90,000 square feet at 277 Park Avenue, moving its Manhattan headquarters uptown, it left three floors of vacant space on the hands of Mr. Green and the Cushman & Wakefield team.
Luckily for them, online retailer the Gilt Groupe, which offers its members discounts on top designer apparel and other deals, was a subtenant in 2 Park Avenue. The company had subleased 50,000 square feet from Yahoo, and with Gilt's growing profile, was looking to take on even more space.
"They felt that in the last few years the building had started to redevelop, the area had become more cool, more hip, they felt that they were part of that," he said.
"Staying there was the right thing to do—staying and expanding," he added.