Update 5: Jackson Browne performing.
Update 4 (1:27): The band Dawes is playing with Jackson Brown. People are heckling for a mic check. "My songs are usually pretty quiet," says singer Taylor Goldsmith or possibly Mr. Browne.
Update 3 (1:23): Jackson Browne has arrived in the house!
Update 2 (1:00): Watching the Livestream, it looks like Third Eye Blind's set is over.
Update (12:50): Third Eye Blind is indeed playing "Jumper"!
Right now, as we speak, 90s band Third Eye Blind is playing an acoustic set in Zuccotti Park. Will they be playing "Semi-Charmed Life"? "Jumper"? Will they be reworking the lyrics to make them politically relevant? ("Wish you would give us back our tents my friend…") We are beyond excited, like the first time mom took us to a No Doubt concert. Watch live below!
This be the first major music act that has played in Zuccotti since the police raided the camp on November 14th. Also expected on the line-up is Jackson Browne, who will be performing at 1 p.m. Since the police have not okayed any amps into the park (plus, where would they plug it into), the sets are acoustic.

Third Eye Blind is also trending on Twitter. This about sums it up: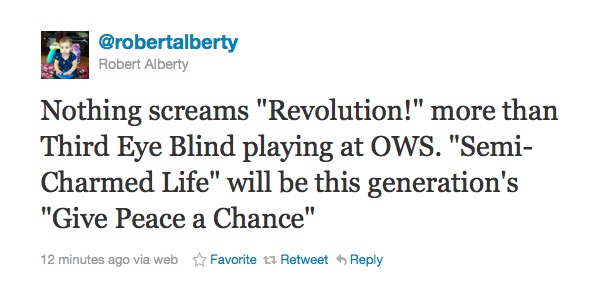 Later tonight, famed composer Philip Glass will be participating at Occupy Lincoln Center during mic check and a General Assembly meeting (which will hopefully be shorter than Koyaanisqatsi). We assume would be like all those other times Mr. Glass has performed at the music hall, except this time you won't have to dress up nice or go inside in order to hear him.
(Photo via @KWadkins on Twitter)