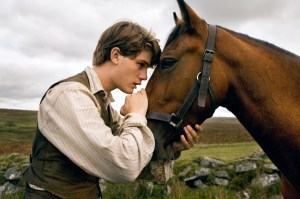 Steven Spielberg at the top of his powers as one of the most successful and creative film directors of the past century is the best reason I can think of to get off your duff and head for the cinema on Christmas Day. You will not believe the epic splendor, sweeping drama and heart-stopping passion he brings to War Horse. It's a rare and genuine movie masterpiece that deserves the label in a thousand ways.
Turning a beloved play into a movie is a job for either a fool or a daredevil. Mr. Spielberg is neither, but he is a visionary with unflinching faith in his own instincts. He must have known going in that he couldn't satisfy the myriad fans of the London and Broadway hit about the cruel things the British did to their horses in World War I. On the stage, the familiar theme of a boy's unshakable love for his horse was innovative in its use of life-size puppets with real feelings and expressions that moved like Tinker Toys. The film uses actual horses to tell the story of a colt named Joey, sold to the cavalry to lug the cannons of war through the German trenches, and a farmboy named Albert Narracott, who enlisted to travel halfway across Europe to rescue him from the front lines. On screen, Albert is played by impossibly handsome newcomer Jeremy Irvine, whose career is already reaching rocket force (he follows War Horse as Pip in the new production of Dickens's Great Expectations). Instead of puppets, Joey is played by 15 different horses, but the one featured most prominently is American equine Finder, who starred in Seabiscuit. Finder is a four-legged superstar who can do everything but talk, even though he has a way of communicating with Albert that is awesome. What he goes through in War Horse is so rending that never before has the disclaimer "No animals were harmed in the filming of this motion picture" carried so much badly needed reassurance. Finder deserves an Oscar for—well, for being the best and most beautiful horse on the screen.
Based on the 1982 children's novel by Michael Morpurgo, War Horse is an elegiac film that clocks in at two hours and 20 minutes, but I treasured every single second. Mr. Spielberg brings so much decency and integrity to the familiar theme of a boy in love with a horse that I didn't miss the puppets at all. The humor and spirit that had such a profound impact on audiences young and old are not only preserved, but enhanced by the personalities of real animals. The careful result is a personalized experience that inspires the same kind of love audiences used to have for Lassie.
The vast and sprawling screenplay by Lee Hall and Richard Curtis respects the story enough to leave it unchanged, without embellishment. A hardscrabble sharecropper named Ted Narracott goes to auction to buy a plow horse, but instead he arrogantly outbids his greedy, mean-spirited landlord (David Thewlis) for a magnificent animal of no real value to a crop planter, bringing down the wrath of his pragmatic, long-suffering wife, Rose (Emily Watson). Their besotted son, Albie, names the horse Joey and vows to teach him how to pull his weight and till the soil. Joey is stubborn and willful with a mind of his own, and when the crops fail, the only way to pay the rent is to sell Joey to the military. The next hour is told from the horse's point of view as the camera follows him through the French battlefields in 1914, where he is cared for by a kind British officer, to enemy lines, where he bonds with a headstrong black stallion, a German deserter and a Dutch girl who protects him by hiding him in a windmill. Captured by the enemy, Joey finally ends up in the Somme where Albie sees combat at last. In one particularly sensational sequence, Joey is trapped in barbed wife and rescued by two soldiers, one German and one British, who momentarily put aside their differences through a mutual compassion for an injured animal, use wire cutters to save the horse's life, and take a minute to share memories of their homes on opposite sides of the conflict. If you are not moved to tears by that scene, or by Albie's eventual reunion with his horse, then you need to see a doctor.
The logistics are overwhelming. According to the Imperial War Museum, more than four million horses perished in the so-called Great War, and Mr. Spielberg puts you right into the middle of their pain and terror in sequences using as many as 5,800 extras and 280 horses without computer-generated images. What an accomplishment. Like the play, the emotional high point of the film is when Albie finally finds Joey. By this time, you're so weary from the gas masks, the grenades, the rats and the cannon fire that you can hardly summon the strength for tears, but when Albie, blinded by mortar, and Joey, lame and half-dead, reach the green pastures and rose gardens of Devon, the tears are evident without coaxing.  Will Rogers always said, "Horses are smarter than humans. You never heard of a horse going broke betting on people." True, but when Albie and Joey reunite, two wounded soldiers of war going home together, you feel the values horses and humans can share through love, loyalty, persistence and understanding. It left me emotionally wrecked.
War Horse is a don't-miss Spielberg classic that reaches true perfection. It's as good as movies can get, and one of the greatest triumphs of this or any other year. For maximum enjoyment, I recommend both a box of tissues and a box of popcorn.
rreed@observer.com
WAR HORSE
Running Time 146 minutes
Written by Lee Hall and Richard Curtis
Directed by Steven Spielberg
Starring Jeremy Irvine, Emily Watson and David Thewlis
4/4