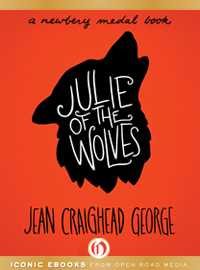 HarperCollins has filed a lawsuit against digital publisher Open Road over the e-book version of Jean Craighead George's Newbery Award-winning children's classic Julie of the Wolves. Originally published in 1972 by HarperCollins, Open Road arranged to publish an electronic version directly with the book's author. In a statement, HarperCollins spokesperson Erin Crum told Publishers Weekly that "HarperCollins Publishers believes in protecting its exclusive rights. Our contract with Jean Craighead George, the author of Julie of the Wolves, grants us the exclusive digital rights to the book, and Open Road's e-book edition violates our rights. We intend to take all appropriate steps to protect our exclusive rights under copyright against infringement, in this case and in any instances that might occur in the future." The e-book still appears to be for sale online.
Open Road Integrated Media, the start-up founded by former HarperCollins CEO Jane Friedman, partners with authors and authors' estates to publish e-books of the authors' backlists. It's a business model that benefits from the murky legality regarding book contracts signed before the era of digital publishing, where authors' rights to digital formats of their work were not explicitly stated. Open Road has published e-book versions of the backlists of Pat Conroy, Alice Walker, Rebecca West and other authors.
Other authors in similar situations, including J.K. Rowling, who intends to publish her own e-books, have thus far tended to arrange a revenue-sharing agreement with their print publishers to ensure they will not violate non-compete agreements in their original contracts. Julie of the Wolves might end up setting an important legal precedent!