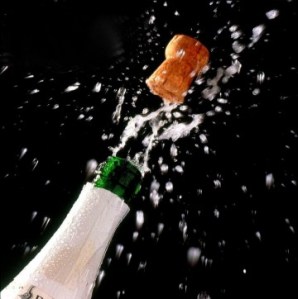 Tonight, we'll continue the holiday media party extravaganza, and hitting
the crème de la crème of glossy fêtes. Time Inc. is hosting its annual
holiday party on not one but two floors of the Time Life Building. We're
planning to bounce between the two, Champagne glass in hand, squinting as we
search for the elevator buttons. By the end of the night, we'll likely have
made pit stops on every floor, stumbling through the unseen recesses of the
media giant, the ghost of Britton Hadden (Time's Christmas Past) as guide.
After we're forcefully dismissed by an armed Time Inc. security guard, we'll
make an (unwanted) appearance at the Bon Appétit holiday party,
appropriately held at West Village hot spot, Fedora. (Bon Ap EIC Adam
Rappaport has been missing the GQ menswear milieu, it would seem.) There,
we¹ll enjoy various amuse-bouches and complimentary complementing beverages, savoring the (bitter?)sweet taste of the affected epicurean company. As for you: come hungry, leave before you get in.
Time Inc. holiday party, Time Life Building. By invitation only. Bon Appétit
holiday party, Fedora. By invitation only.