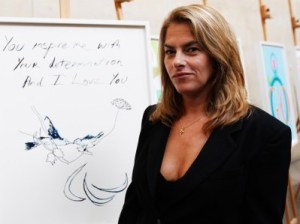 "Charles!" Tracey Emin said at her book signing last night, greeting Rizzoli publisher Charles Miers, who'd just pushed through the crowd that crammed every inch of the small store's space. "It's a nightmare! Nobody showed up!"
Bookmarc, Marc Jacobs' West Village book store, could barely contain the patrons who clamored for Ms. Emin's signature—her latest offering My Life in a Column (Rizzoli) is a collection of her weekly dispatches for The Independent. Drinks came in the form of bubbly canned Sofia brand wine from the Francis Ford Coppola Winery, with mini juicebox straws included. Perched on a stool in a skirt and black leather boots, Ms. Emin held court at a corner of the store.
"To Tim and Kevin?" Ms. Emin said to one of her admirers and hovered the Sharpie above the page. She looked over her glasses and tried to appear concerned. "Tim. You're not a homosexual, are you?"
Another guest whipped out an iPhone to show her his favorite piece of hers. "Diddy bought that, can you believe it?" she said. "Just this past weekend—it made the financial sections of all the papers."
Vito Schnabel stopped by to kiss Ms. Emin's cheek, as did Stefano Tonchi. The store was jam-packed the entire time, but the crowd became most apparent when the door was closed for the reading portion and the windows fogged instantly.
"I had corrective eye surgery in 2000," she told the store. "And now I can read buses, but I can't read books. And everyone says to me, 'Tracey, what do you think of your book?' and I say, 'I actually haven't read it.' I wrote it but I never read it, so this is the second time. If I get this wrong or say something wrong you have to forgive me. I'm going to read really slow and it might be really boring."
For Ms. Emin, the boredom set in relatively soon. Some five minutes later she cut herself off, mid-sentence.
"'Where do songs go?'" she read. "'They can't just all float'—do you understand what I'm talking about here?" She stopped reading to address the audience and summarize the passage because "it's so much easier than reading it."
"This is what this is about—when I'm really old I'd like to do an art project… where I go to the Arts Council in Britain and apply to do a volcano trip where I just travel to every volcano in the world and stand on the edge closest to every volcano and just scream the name of every lover that I've ever had in my life. So that's what that story's about, all right?" Everyone seemed pleased with the precis and she took some questions.
"I have another question," said one young audience member after Ms. Emin finished answering his first. "Actually it's more of a compliment."
"No, sorry, has to be a question," she said, and moved on to another audience member. Eventually the questions dwindled.
"If we don't have any more questions," said a diplomatic older gentleman in a raincoat, "perhaps now you could take that young man's compliment?"
"Why should I?" Ms. Emin asked sweetly. "I'm not desperate."