Gannett (GCI) Co. is leasing a 23,000 square foot space at 1440 Broadway. The media holding company, which owns USA Today as well as several other daily newspapers and television stations across the country, will be using the space for a new online division a source said.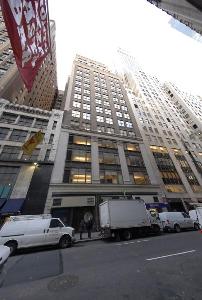 The company will take a portion of 1440 Broadway's 17th floor, a space it will sublease from Newtek, a company that is involved in small business lending. Newtek itself subleases the space, from Primedia, a media firm, so technically Newtek's deal with Gannett is a sub-sublease. The remaining term on the space stretches five years.
Newtek is relocating from the office back to a location it previously occupied in the city, 212 West 35th Street, but is exporting the bulk of its square footage to a location it has at 60 Hempstead Avenue on Long Island.
Gannett was represented by a CBRE (CBRE) team led by executives Michael Laginestra, Robert Hill and David Hollander. Brad Gerla, also an executive at CBRE, arranged for the disposition of the space for Newtek, which is one his clients.
Dan Geiger, Staff Writer, is reachable at DGeiger@Observer.com