CapitalSpring LLC is trading one of midtown's priciest locations for Third Avenue. The company, a private equity and venture capital firm, signed a roughly 8,000 square foot deal at 950 Third Avenue for a portion of the 32-story building's 11,500 square foot 24th floor.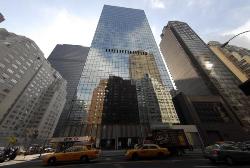 The company will be relocating from 712 Fifth Avenue, a midtown office tower known for its high rents and appeal to boutique investment firms.
Mikael Nahmias, a Cushman & Wakefield executive and agency specialist who handles leasing in 950 Third Avenue for the building's owners, said that the property has drawn tenants away from more prestigious addresses for is value and location. Asking rents in the 370,000 square foot property are in the $50s and $60s per square foot depending on the floor and in the $70s per square foot for space that is pre-built.
"The building is close to transit that connects with the Upper East Side, so a lot of principals who live in that neighborhood have wanted to bring their companies here because it offers such an easy commute," Mr. Nahmias said.
In addition to CapitalSpring LLC, other recent activity includes a 7,000 square foot renewal with the accounting and business consulting firm Charles A. Barragato & Co. for a portion of the 19th floor.
Mr. Nahmias said that activity has been brisk in the building in recent months. TPR Holdings, a tenant on the third floor, recently reached a deal to renew and expand onto the fourth floor in a 16,000 square foot deal. Pforzheimer & Co., an investment bank and securities brokerage, extended the 6,600 square feet it occupies on 950 Third Avenue's 30th floor for three years. Clairvest Corp., another financial firm, which has 3,300 square feet on the 23rd floor also extended its lease for three years.
Like CapitalSpring LLC, Palantine Capital Partners, another financial company, recently struck a deal to come to 950 Third Avenue from a more central area of midtown. The firm, which took 2,100 square feet on the building's 31st floor, will be moving from 667 Madison Avenue.
The building is owned by husband and wife Naomi and Andre Altholtz. The couple received the building as part of a recent partitioning of assets among family members of the real estate investor and developer Axel Stawski.
One of the few spaces left according to Mr. Nahmias is a 3,100 square foot pre-built office on the building's 24th floor.
DGeiger@Observer.com