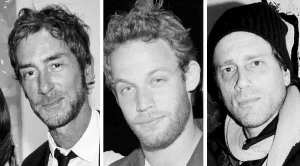 Quality restaurant art is nothing new, especially in New York. When it opened in the late '50s, the Four Seasons Restaurant, in the iconic Seagrams Building, had art by Picasso, Miró and Jackson Pollock on the walls. (The dining room was meant to get a series by Mark Rothko, but he pulled out of the project, and the paintings now hang in three museums.) The food/art nexus may have culminated with the freewheeling 1970s, when Gordon Matta-Clark had his restaurant, Food, in Soho—compared with that, most restaurant offerings seem pretty staid. These days, you can go to Casa Lever, in the architecturally groovy Lever House, and gaze at myriad Warhol prints of celebrities—Hitchcock, Sly Stallone—while you're eating your $52 "Costata" T-bone steak. And if you're looking for something a bit more classical, there's always Maxfield Parrish's monumental mural, Old King Cole, which hangs elegantly above the bar in the St. Regis Hotel. But a new joint set to open by the end of the year is bringing New York restaurant art to a whole new level of downtown hipness.
ACME, at 9 Great Jones Street, is owned by Jean-Marc Houmard, co-owner of Indochine, Jon Neidich, who used to manage the bar at the Boom Boom Room and Evanly Schindler, the founder of Blackbook and former president of Interview, who is making his entree to the restaurant world with this narrow bistro. Mr. Houmard has also brought in his frequent partner Huy Chi Le. The chef is Mads Refslund, of the acclaimed Noma in Copenhagen. The restaurant's initial artistic offerings include works by downtown fixtures like Hanna Liden and the Bruce High Quality Foundation, as well as contemporary blue-chip favorites like Peter Doig and Richard Prince, though the owners say this is just the beginning, and plan to cycle in new works once the venue opens.
"Every restaurant does art," Mr. Schindler said. "Every company tries to work with artists, these days more than ever, so we're not just trying to do art for the sake of art. But at the same time there is a methodology here, which is riffing on the Dada aesthetic, the anti-art idea that's irreverent and fun."
Ms. Liden's statue, which will be visible through ACME's front window once it opens, is a take on Marcel Duchamp's inverted Bicycle Wheel, his first ready-made piece. Instead of a stool, Ms. Liden's wheel sits on a stack of plastic folding chairs to the right of the foyer. Woven between the spokes in blue neon are the words "HAVE A NICE DAY," the letters on the final word disintegrating, as if whoever is uttering the phrase can't keep a straight face. A reference to her obsession with those fake, well-meaning sayings found on bodega bags, it's a bit like a Tracey Emin neon, though it's also a bit like that Batman movie where Catwoman smashes a neon sign in her apartment. Once the facade is done, the piece will be visible from the street.
On the wall to the left and just past the entrance there are prints by Mr. Doig, Josephine Meckseper and René Ricard from the Neidich family's personal collection, clustered with the second brand-new piece, a photo by Olympia Scarry commissioned by Neville Wakefield, the independent curator who worked on the last PS1 "Greater New York" show. Ms. Scarry happens to be Mr. Wakefield's partner and her photo, like the Liden, also plays with Duchamp, in this case the photograph of the artist in his later years playing chess with a nude Eve Babitz. Ms. Scarry set her photo in the Swiss Alps, and has a nude woman playing chess with a goat. The lighting is low enough that most of these pieces are difficult to see, and the works have nothing in common with each other, or the surrounding decor, which is café society meets casbah—checkered floors and tan walls.
"A lot of time when there's art in restaurants it's trophy hunter-status, in your face," said gallerist Bill Powers, who used to work with Mr. Schindler at Blackbook and commissioned the Liden. "Like Gramercy Park Hotel or Lever House. On the opposite end of the spectrum are the anonymous murals at the Waverly Inn, which are nice but very subtle. Here, the owners thought you can do something that's relevant and still is a little more integrated."
You can almost miss the Bruce High Quality Foundation bust that sits behind the bar, amid liquor bottles—though Bruce associate Vito Schnabel didn't when he arrived on Thursday and sat down at the bar right in front of it. At the end of the bar on a chalkboard is the quote, "Before Adam met Eve, he was gay," from Warhol pal Taylor Mead's book On Amphetamines and in Europe, a passage that also features a cameo of the address 9 Great Jones. A series of Richard Prince prints featuring X-ray-like skulls with Playboy bunny ears are tucked at the far back of the main room.
"At the time he got a 'cease and desist' from Playboy because he wasn't the Richard Prince he is today," Mr. Powers said. "He was probably a little more of a hambone."
Though still under construction on Thursday, the restaurant's basement will be a sort of gallery space featuring a hallway of what was referred to as "doors to nowhere." Artists contribute their takes on the door and patrons are offered the opportunity to peruse—Aneta Bartos, an artist at the tasting, described her door as a slideshow reel of photos that you watch through a peephole and turn with a crank. At Mr. Wakefield's suggestion, Martynka Wawrzyniak will contribute a video piece. There are also plans to make use of an abandoned elevator shaft as an art space—but as it always is for young restaurants, much is up in the air.
"We could have reached higher, including big, big names, especially through Neville," Mr. Schindler said. "We wanted to focus on younger artists for the opening. That's not to say there won't be a few big names in the future. It's in flux."
For ACME—whose name recalls not only a synonym for "apogee," but also the company that sold defective bird-catching goods to Wile E. Coyote—popularity feels inevitable. It may even be poised to replace places like Indochine and Bottino as the art world's dining hall of choice. Though Thursday was just for friends and family—and the owners stressed this several times, because the restaurant is not yet open for business and the appearance that it is might cause a headache with the Health Department—it was still packed, and with just the type of people you'd expect. Glenn O'Brien sat at table next to Richard Kern and his wife, Ms. Wawrzyniak. Mr. Powers and his wife, Cynthia Rowley, debated whether they should stick to appetizers, since their baby-sitter for the evening was a semiknown DJ who had to leave soon for a set. Parker Posey left not long after China Chow entered, and artist Tom Sachs was deep in conversation with Visionaire magazine co-founder and former model Cecilia Dean. The owners may have been right to be nervous, but for any journalists who might have been standing around at the bar, it was pretty clear that these really are the owners' friends and family.
dduray@observer.com