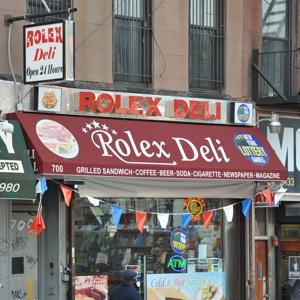 The 1% percent are at it again! No, today it's not a solitary fat cat out to get the masses, but the company behind the blue bloods' consummate accoutrement: Rolex.
You'd think they'd be busy enough in the holiday season polishing their glimmering time pieces, but no! Instead they're taking on the little guy as embodied in a small Brooklyn delicatessen, the Post reports.
"Rolex Deli," an unassuming, 24-hour Fort Greene joint, is the object of a federal trademark infringement lawsuit. Apparently the luxury watchmaker of the same name thinks that New Yorkers are feeble-minded enough to conflate the two establishments.
Rolex is arguing in court papers that the delicatessen, which is sandwiched between a pharmacy and a clothing store, would "dilute the distinctiveness of the Rolex trademark."

The deli's owner, Shawqu Ali, has more faith in the general public.

Apparently, Rolex doesn't know the difference between a sandwich and a watch. Regular people know the difference.
The company is seeking unspecified damages and demanding Mr. Ali change the name of his shop.
Might we suggest you suggest Tag Heur and Choppard stay off the list of possible new names for the deli?
eknutsen@observer.com