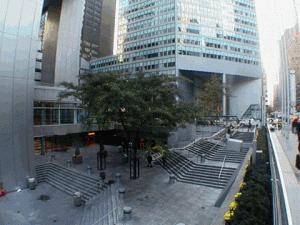 Michael Kimmelman returned to the public realm for this week's column, where he all but declared what appears to be his raison d'etre going forward: "We've been so fixated on fancy new buildings that we've lost sight of the spaces they occupy and we share," he wrote in the Sunday Times. But instead of Zuccotti Park and protest spaces, this time Mr. Kimmelman turns his attention on Midtown, where he ambles about with the esteemed planner (and mayoral soothsayer) Alexander Garvin.
Together, they argue that the city needs to do more to plan these spaces, which are largely designed ad hoc, if at all, by the developers who own the properties. They point to Holland, that godhead of urban enlightenment, as a prime example from which to learn:
The Dutch today put together what they call "structure plans" when they undertake big new public projects, like their high-speed rail station in Rotterdam: before celebrity architects show up, urban designers are called in to work out how best to organize the sites for the public good. It's a formalized, fine-grained approach to the public realm. By contrast, big urban projects on the drawing board in New York still tend to be the products of negotiations between government agencies anxious for economic improvement and private developers angling for zoning exemptions. As with the ill-conceived Atlantic Yards project in Brooklyn, the streets, subway entrances and plazas around Flatbush and Atlantic Avenues, where millions of New Yorkers will actually feel the development's effects, seem like they've hardly been taken into account.
It is a very good point, one the developers would no doubt argue against, even if it is for their own good. Look no further than the High Line, which has been a boon to development in Chelsea, even if the landlords betwixt the elevated park fought for its demolition for years. Messrs. Kimmelman and Garvin raise the potential of closing 33rd Street between Seventh and Eighth avenues, a measure that would no doubt be fought just as hard as the proposal to close 34th Street, which was defeated earlier this year.
And yet consider the success of Times Square and Broadway, which have seen retail rents rise and public satisfaction grow. Like a temperamental child, builders and landlords do not always know what is best for them. By making the space surrounding their buildings more appealing, the buildings themselves will rise in value. The rise of quality architecture and sustainable design only underscore this fact. People will pay for quality, especially in a city with such high demand for property like New York.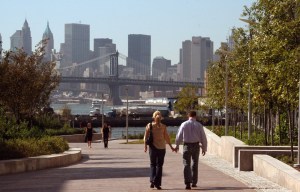 The Observer is reminded of something Mitchell Moss, the N.Y.U. open space guru, has told us on more than one occasion, that the city should be building neither roads nor bike lanes but instead expanding the sidewalks. This is our front yard, he likes to say. (Again, cf. Times Square.) But it is also important that these lawns on not weedy and full of crab grass.
Given the right constraints, however, the city's developers can actually do good. Even if Atlantic Yards will be a public space disaster as Mr. Kimmelman seems to suggest, Bruce Ratner has pushed his architects at SHoP to create the best space around his arena possible, even if it is not nearly enough space.
Things have been getting better, too. Messrs. Kimmelman and Garvin point to the Citicorp plaza, built in the late 1970s as a decent model, while the one across the street, is not, but keep in mind that the new public plazas tend to outshine the old, which were first inaugurated in the 1960s. Then again, august examples exist as well, such as Rockefeller Center or the Seagram Building, so developers do not always follow the best leads.
That is where the city comes in.  The Williamsburg waterfront, derided in an aside by Mr. Kimmelman, has actually shown a great deal of promise. The waterfront esplanades and open space surrounding the buildings there have become popular destinations, jam packed with fisherman, flea markets and, most recently ferry goers. The problems actually lie with the spaces the city has tried to create, such as Bushwick Inlet Park, a sizable waterfront complex that has languished due to budget constraints. Is privatization of the public realm good? Rarely, though it does have its merits.
At the Edge, Northside Piers and 184 Kent Street, a genuine waterfront is blossoming. It may lack the grandeur of the centrally planned Brooklyn Bridge Park, and the lampposts and benches might not match, but it still follows strict guidelines set up by the city that have created an inviting public realm. It is a hodgepodge, but so is New York.