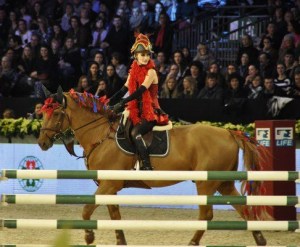 What if the most expensive home ever sold in the history of Manhattan real estate was a Christmas present? In a remarkably credulous blog post, Forbes is reporting that Dmitry Rybolovlev did not buy Sandy Weill's penthouse for himself. Instead, the magazine claims it was his equestrian 22-year-old daughter who bought the place.
According to a statement given to Forbes, that is the arrangement being asserted:
A company associated with Ekaterina Rybolovleva, daughter of a well-known businessman Dmitriy Rybolovlev, has signed a contract to purchase an apartment at 15 Central Park West, New York. The apartment is a condominium currently owned by the Sanford Weill Family.

The statement goes on to say that Ms. Rybolovleva "is currently studying at a US university. She plans to stay in the apartment when visiting New York."
When contacted by The Observer, noted real estate attorney Stuart Saft joked that no doubt Mr. Rybolovlev would be staying there as well when he was in town. Indeed, there is plenty of room for the both of them in the city-block-sized spread over looking Central Park.
Even if the apartment was bought in Ms. Rybolovleva's name, clearly she did not purchase the apartment with funds earned on her own—riding horses pays well, but not that well. According to equestrian website Global Champions Tour, Ms. Rybolovleva made $2,370 in competitions last year. That would leave her about $87,997,630 shy of the apartment's price.
Stranger things have happened, maybe, but it seems suspicious that the purchase should come in the middle of Mr. Rybolovlev's knock-down, drag-out divorce war in Geneva. Could buying the apartment in his daughter's name assuage the financial pressure on Mr. Rybolovlev whose wife is demanding $6 billion in the proceedings?
"It gets the money out of his estate involved in his fight with his wife," Mr. Saft agreed. Yet he thought it was more likely that the gambit was related to income taxes.
"I think its related to taxes," he said. "I think it is his daughters apartment that he will be staying at when he's in New York. And he's concerned about New York income tax liability. It's a real problem in a high tax city, in a high tax state," he said.
enknutsen@observer.com