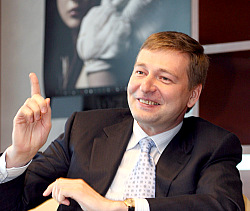 Aside from his many reported mistresses, Dmitry Rybolovlev has eyes for only one beauty: 15 Central Park West.
Multiple sources have told The Observer that for the past few years, as the Russian fertilizer tycoon has been on the hunt for a New York home, he has solely search in the limestone glory overlooking Columbus Circle. Like a besotted admirer, his gaze could not be wrested away from the Robert A. M. Stern-designed wonder, despite the best efforts of brokers.
"He'd been looking here sporadically for about two years," said a broker who has worked in the building.
Among the units Mr. Rybolovlev had looked at was that other record-setting penthouse, which William Lie Zeckendorf ultimately sold to a GPS mogul for $40 million. According to a broker with knowledge of that almost-deal, Mr. Rybolovlev looked at the Zeckendorf apartment but decided the 4,024-square-foot-square-foot space was too small for his liking.
Was the Russian  not interested in a building with deeper New York roots, say 740 Park or 834 Fifth? "No co-op would ever let him in the building," another broker said. Sadly, his 10-month jail stint on suspicion of murder might have precluded a visit with the stuffy boards.
One thing missing from the years of 15 CPW scouting? Ekaterina, Mr. Rybolovlev's daughter who is reportedly the one buying the penthouse for $88 million. "The daughter wasn't mentioned," said a broker who has been keeping tabs on Mr. Rybolovlev's real estate interests.
She did see the place before she "bought it," though. A source tells us she visited it a single time during the negotiations.
Other international high fliers have recently discussed buying property for themselves in the names of their young-adult children, explained a 15 CPW resident who recently put her apartment on the market.
"There's a billionaire that's interested, and his daughter goes to N.Y.U," she said. "He was going to buy it for her, but he was also interested in being here a lot."